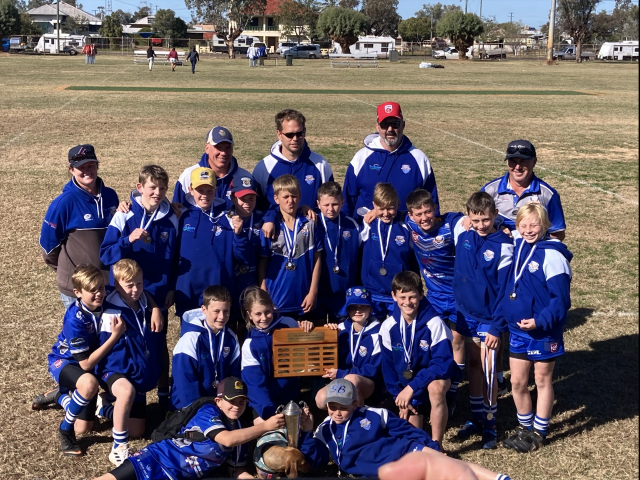 By Jessica McGrath
South Burnett Eagles under-12s side went down in the grand final, but put up a good fight.
In a low-scoring carnival, South Burnett Eagles under-12s finished up runners-up.
Coach Robbie Zelinski said they had a great week at the Zone 5 Under 43kg Carnival in Cunnamulla during the school holidays from 3 July.
There were eight teams all up from across northern NSW and south east Queensland.
"I wasn't expecting to do as well, but we came runner-up," Zelinski said.
"The last game was the final between us and Central Downs, but unfortunately the boys and two girls at the carnival unfortunately went down and put up a good fight."
Three players from Toowoomba joined the 14 South Burnett players to make a full team.
"Defence was great throughout the week -we actually had a nil-all game, that's how tight the carnival was, it was a very low scoring carnival," Zelinski said.
"They show some great attacks at times, and a couple of the kids scored multiple tries in some of the games."
The players weighed in on the Sunday, and played five full games throughout the week.
On Wednesday the carnival incorporated a sports day with running races, relays, tunnel ball competitions and tug of war.
In the sprint races each player with the same jersey number went up against each other to find out who was the fastest #5 and #2.
The fastest players from each jersey number then raced each other, with Patterson Braithwaite came third.
The Eagles came third in tunnel ball and won the tug of war competition.
On Friday the Eagles' four nominated players -Patterson Braithwaite, Jack Schulz, Will Champney and one of the Toowoomba boys Quade Howe -represented their rural region in the Country vs City match.
"They played in the City versus Country game and the country won! –they beat the city this year," Zelinski said.
Outstanding players were recognised at the carnival including Patterson Braithwaite as the best back for South Burnett, Will Champney as South Burnett's best forward and Charlie Ashcroft as South Burnett's most improved.
"The kids put in a massive effort, everyone had a great time, everyone enjoyed themselves," Zelinski said.
The players also got the opportunity to make friends with the other representative players at the carnival. Each child was given South Burnett badges and got to swap them with players from the other teams so they each got a badge from each of the eight teams in the carnival.