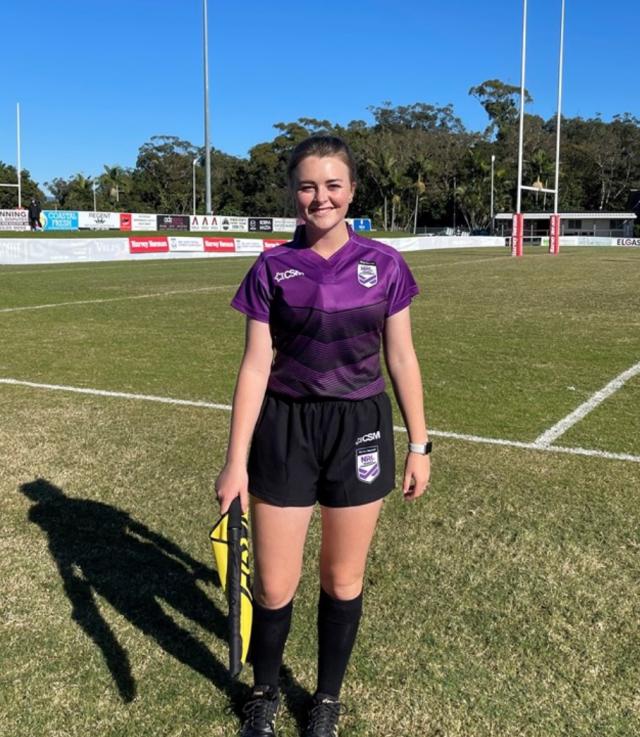 By Rikki-Lee Arnold, QRL
Kingaroy teenager Bridie Prendergast is still floating on air after notching up a thrilling achievement in her young officiating career.
The Kingaroy State High school captain ran the line during the inaugural Under-18 Schoolgirls clash between Queensland and a combined New South Wales/ACT side at the illustrious Suncorp Stadium in a curtain raiser to the 2022 State of Origin decider on 13 July.
As a young girl who hopes to one day referee in the NRL, Bridie's mum Sheree Prendergast said it was a dream come true for the 17-year-old.
"She's still on cloud nine," Prendergast said of her daughter.
"She still hasn't come down. It meant so much to her.
"She continued to learn while she was down there and she said having the ability to mingle with the State of Origin referees afterwards was incredible.
"She and her sister (Brenna) did a BMD Premiership game back in May at Cbus Stadium but this certainly took the cake.
"It was a big stadium and platform. She's still buzzing."
Bridie originally took up officiating almost four years ago after she moved away from playing the game due to limited pathways for girls at the time.
She still went to the football plenty, along with Brenna, 20, and their brother Fletch, 16, and the two sisters decided to give back to the game through refereeing.
Brenna was the standby match official for the Schoolgirls match and Prendergast said she thinks they have both been rewarded for their commitment to the game, especially since the Kingaroy-based duo travel once a week to the Sunshine Coast to be part of the High Performance Unit.
"It's their commitment to being match officials and their eagerness and willingness to learn," Prendergast said.
"They're always taking on their feedback and are doing constant training.
"It's awesome to see them so passionate about something and getting the reward. Bridie is trying to work out what next year looks like. She really wants to go down that pathway of being a fulltime NRL match official."