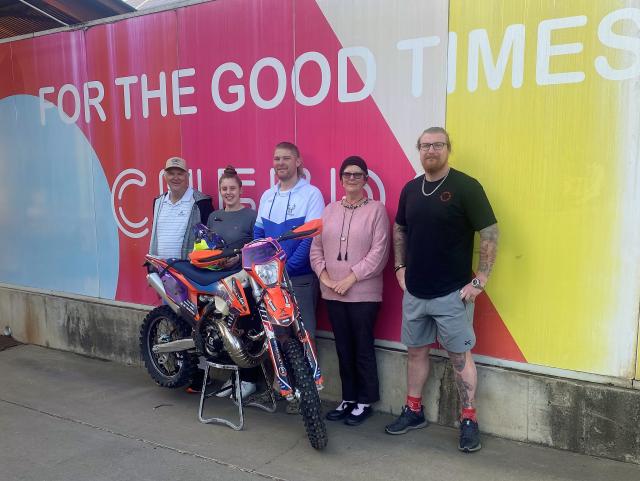 Euan Morrisson
A big donation from some generous locals is taking this Australian representative to France.
Ebony Nielsen from Nanango will be representing Australia in France for the motorbike racing discipline of enduro with the help of a $5000 grant from the Fitzroy Hotel in Nanango.
The FIM International six days of Enduro will run from 29 August until 3 September and be ridden across central France at Le Puy-en-Velay.
Across the days of racing, competitors can expect to be riding for between six and eight hours a day.
Doing between 1300 and 1500 kilometres over the race, the riders and their bikes are pushed to their limits.
Each day, riders have 10 minutes in the morning and 15 minutes in the afternoon to make repairs that can only be done by the riders themselves.
No one else is allowed to touch the bikes.
If they need more time to do repairs, they need to do it throughout the race and once that 15-minute period in the afternoon finishes the bikes are all locked up, so no repairs overnight either.
As the riders are also tasked with doing all of their repairs quick, it's another area of the discipline they have to practice.
"There's a fair bit of practice that goes into that sort of thing to just get fast," Ebony said.
Ebony has three sets of front and rear tires that she intends on changing throughout the race, but only 25 minutes a day to change them.
"It [tire changes] used to take me like an hour… [but] I've got my tire changes to about 4 minutes."
On top of tire changes, Ebony will also have to think about oil changes, air filters and anything else that has possibly broken.
While no one else can touch her bike, she has her partner as part of her support crew.
He will play a big part in making sure Ebony's repairs are done as swiftly as possible.
"It's practice for both of us."
"He's got to have his job down pat so I can get mine down pat."
"It's a team effort."
Ebony's partner will be racing in Romania in late July and lucky for Ebony, both of them ride the same type of bike- a KTM 300.
"It's the bike that I like racing here back in Australia I do a couple of disciplines of riding here so the KTM 300 really suits the hard enduro."
Ebony has been riding motorbikes for most of her life and started getting more into competitions when she was thirteen.
Her father also represented Australia at the same enduro in France that Ebony will be flying over to compete in.
"I think we're about the only father-daughter to ever go and represent Australia for the international six days."
"It's been a goal since I was younger."
Ebony is hoping to finish the race but understands that representing Australia is in itself a feat.
"The goal is to make the finish but like my dad said to me, it's a bloody achievement just to make the start line."
Rebecca Jackson from the Fitzroy Hotel in Nanango said they were very happy to help support Ebony.
"It's good that we're helping someone achieve their dreams," Rebecca said.
"It was Pete's idea… he supports a lot."
Enduro was a sporting discipline that Rebecca was unfamiliar with, but hearing about how tough it is said she was very keen to help out.
"Listening to Ebony, it's just- wow."
Ebony said she was overwhelmed by all the support and that it'll go a long way in helping her towards her ambitions.
"It's super generous," Ebony said.
"Their support is going to help my racing overseas and for the rest of the year in Australia. It's going to make a big difference."