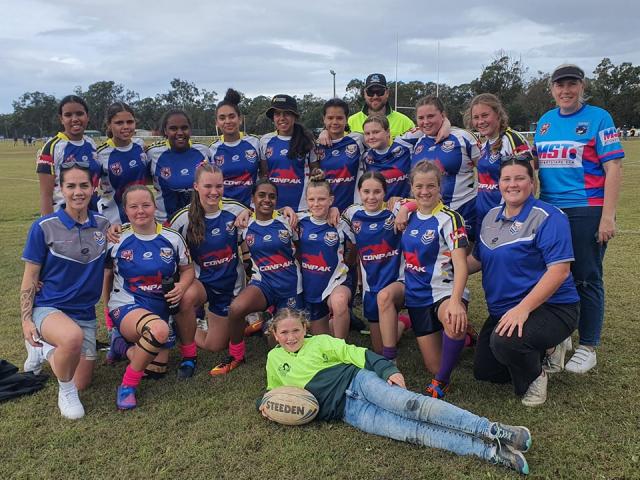 by Jessica McGrath
South Burnett Rugby League women's teams have their eyes set on the season grand final.
During a special 'Women in League' round at Fraser Coast's Torbanlea on Sunday, 31 July, the under-14s girls team and the open women's team both won their matches at the Wide Bay Female major and minor semi-finals.
This win secured the Open Women's team the first spot in the Grand Final and the under-14s girls team a chance to play for a grand final spot in the major semi-final this weekend.
OPEN LADIES DOMINATE
It was the Open Women's best game of the season as the Eagles soared under pressure against the Bundaberg Bears in their major semi-final.
The Eagles started strong and asserted dominance early with tries from Traevonnah Fisher, Alira Gyemore and Sophie Fisher, bringing the Eagle's score at halftime to a 14-4 lead.
Halftime gave the team a chance to regroup and fire up, to reset and come out hard again in the second half.
The second half was a very physical and intense game but the Eagles never lost composure and everyone stood up for each other.
South Burnett Female RL Coordinator Brittany Holding said an impressive and late try from Sarah Hebbel-Clarke sealed the deal and saw the Eagles run out as winners with a score of 18 over the Bears' 12.
"This win sees us secure the first spot for the Grand Final, a spot that we have earnt, fought for and deserve," Ms Holding said, who is also the Open Women's Coach.
"Today the ladies came together and just simply backed one another, it was the best game we have played all season.
"It was fantastic to watch a real team unit go out there and have fun, play confidently and get a good hard win."
There were many outstanding players when it came to the women's team awards.
Players of the match were Elyse Williams and Traevonnah Fisher
3 points: Sophia Fisher and Holly Patton
2 points: Sarah Hebbel-Clarke and Michelle
1 point: Phoebe Millar and Reggie Hickey
Other outstanding players include captain Elle Mollenhauer and Madison Mobbs who are proving to be a damaging combination of their side in both attack and defence.
Nickie Geysing and Teilha Keehn were deserving of recognition for their consistency and reliable attack.
Alira Gyemore was nothing short of brilliant with damaging runs and ferocious defence in high pressure times.
Coming off the bench, Nerada Bansgrove, Hailee Hearfield, Gabrielle Wilcox, Evania Prior and Liz Hayward were nothing less than outstanding with their attack and defence not wavering when making interchanges.
UNDER-14s EYES SET ON FINAL
Earlier that Sunday the under-14s girls had their minor-semi final match against the Bundaberg Bears.
The girls started off strong and put on a massive first-half effort, scoring 44 points.
Ms Holding, who is the under-14s manager, said the final score of 56-4 in favour of the Eagles was a great reflection of the girls' hard work during the season.
"This was a do or die game and they showed exactly what they are capable of," Ms Holding said.
Under-14s try scorers were Awhena Koroiko, Madison Holding, Bella Barrett, Summer Sullivan and Zoe Hall. Successful conversions were securred by Summer Sullivan, Ruby Law and Sharlece Fisher.
The under-14 girls Eagles will take on the Fraser Coast Crushers this weekend to determine which team will progress to the Grand Final.
The South Burnett Eagles under-17s girls had a bye during their round 9 of the season last weekend.
This is an outstanding effort for both of the Eagle's women's teams since the South Burnett Female Rugby League teams started their first season in the new Wide Bay Female Competition.