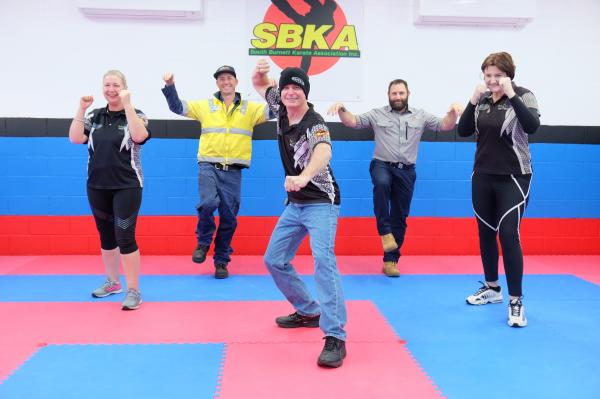 By Jessica Mcgrath
Karate trainers had tears of joy and disbelief when they heard their dream for their centre could become a reality.
South Burnett Karate Association have renovated their Kingaroy studio after receiving a $26,500 Gambling Community Benefit Fund grant from round 103.
SBKA treasurer and instructor Jolene French said these upgrades had been on their wish list for at least two years.
"It felt like one of those unattainable wishes," she said.
"I was surprised we were able to get that much."
Insulation, air conditioning and proper lighting in the studio will allow the students to train all year round and not worry about hot days under the tin roof.
Fellow instructor and SBKA secretary Kelly Randall said the students thought the changes were amazing after years of opening the roller door and windows to cool down the studio.
"It was nice for them to go from humble beginnings with the hot tin roof to where they are now," she said.
French said as a not-for-profit organisation, projects this big could not be achieved by fundraising alone.
"We need that little help of injection to move forward," she said.
"We're all about providing for our members and community."
The karate studio got the help of their 'complex neighbours' Favier Building Industry and AMG Electrical for the renovations.
Mitch Gray, from AMG Electrical, said his team put in LED lighting and installed air conditioning.
"It's 100 per cent on what it was," he said.
Favier Building Industry's Gary Favier said they put in a suspended ceiling and insulation at the centre.
"The tin roof was quite hot for the kids," he said.
"It's now brighter and lighter for the kids to train in and much more temperate for them to train in."
The GCBF grants are required to utilise local businesses for the projects.
Favier said this was his third community project.
"We're happy to do it and help out where we can," he said.
French said the club received the news about the grant the same week they had to close down due to the pandemic.
"It was good to keep us busy and gives us hope for the future," she said.
SBKA president Geoff French said the support of the grant was amazing, especially while classes had to cease as it kept the staff busy.
Karate classes started back on June 8 with social distancing in place.
"We're back even better and stronger," he said.
The karate club are looking forward to having a little more contact in their classes now that restrictions have eased.