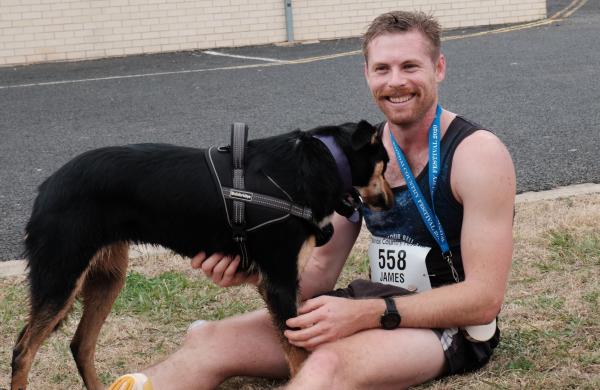 by Jessica McGrath
The best mates lay on the grass after the finish line, exhausted after running their first marathon together.
Tackling his first marathon was a big feat for Kingaroy runner James Maxwell at the Wondai Running Festival last weekend.
"I'd already done about five half marathons, and I figured it was time to step up to the marathon distance," he said.
His marathon buddy, Tilly, a one-year-old Kelpie-collie cross was ready for another run after meeting her owner five kilometres down the track from the starting line.
"She did it pretty easy," Maxwell said.
"She's done all of the training with me, she loves running and it's good to have company."
Since the track was along the rail trail, it was easier to allow the dog to join in for the race.
"At any normal event I wouldn't have had her," he said.
"Tilly is a good companion which is the reason I brought her along with me."
Maxwell finished the 42.195km Ken Mills and Auto Machinery Marathon in 4 hours and 35 minutes, followed closely behind Nanango runner Trevor Adams.
"I'm still happy with the overall time," Maxwell said.
"I finished strong, that's the main thing."
The Wondai marathon was won by Rochedale South runner Adrian Royce, and runners up Frank Witcombe from Dalby and Kawungan runner Simon Christie.
Maxwell said the race got quite difficult after the halfway mark for him.
"I got a bit emotional at one point," he said.
The go ahead for the Wondai Running Festival was only confirmed eight weeks out from the event in early June due to the health crisis.
This meant many runners like Maxwell had not had ample time to train properly and prepare for their race, especially when he had an injury early in his training program.
"I hadn't trained enough, so I had no high expectations," he said.
"You generally want 12 weeks for a program."
Maxwell had placed second in the 2019 Wondai 10km Trail Run and also won the 1km Dash for Cash in 2.42 minutes last year.
He decided it was about time he took on the challenge of a marathon and looks forward to his next one.
"Maybe next year, I'll see how I'm feeling and what my preparation is," he said.
"I'll try and get a better lead up to it, and learn from this experience and hopefully run the whole thing next time."
It seems running 'runs' in the family with Maxwell's 80-year-old grandmother Angela Clarke also running last Sunday, and the pair are both regulars at the Wondai Parkrun.
"I've really loved it (running) since I was young," Maxwell said.
Clarke finished the 10km PCA Rail Trail Run with a time of 1:06:57, coming ninth in her Masters 45+ years category.
"Thanks to all of the volunteers being there," Maxwell said.,
"It's been quite successful."
The Wondai Running Festival had a total of 469 nominations over the weekend's events.
This included 22 marathon runners, 73 half marathon runners, 105 in the 10km race, 65 for the forest trail and family race, 20 in the all abilities race, 18 competitors in the Dash for Cash and 72 in the 5km run.