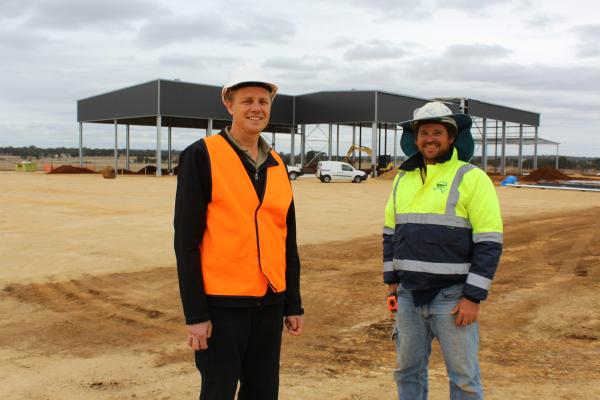 Laura Blackmore
For the past two years the team at Proteco Oils has been conceptualising the master plan for its $24 million expansion.
Owner and managing director Josh Gadischke first started at the company as a sales representative before buying it from former owner Graham Helmhold 10 years ago.
Since taking over, he said in the past few years the business had continued to grow to the point that manufacturing opportunities became limited at their current site at William St Kingaroy.
After two years of planning, Mr Gadischke said it had been a long process to get the new build underway.
"My wife Jo and I have been running the business along side our staff of about 40 people," Mr Gadischke said.
"We have started chasing different sales channels, particularly overseas, through some of local major supermarkets like Coles and Woolworths.
"It's enabled us to grow the production in certain areas and consecutively increase our staff every year.
"At the current site we are virtually at full capacity," he said.
"We knew if we wanted to continue growing the business, we had to make some changes."
The walls are now up for stage one, which is worth $7 million out of the total $24 million Greenfield expansion being constructed off Cornish St, Kingaroy.
In order to make this dream a reality, Mr Gadischke brought in the guidance from a well known company who transformed another local manufacturing site.
"We have used the same builder, SBP Builder, who rebuilt the section that burned down during the Swickers Bacon Factory fire," he said.
"They are Brisbane based and their main strengths are in food processing facilities.
"The company was attractive to us because they understand food hygiene standards.
"They have been very good to work with and were supportive of my requirements to use local trades and services from the South Burnett for the actual build."
Site Supervisor from SBP Builders, Malcolm Tubman, said this was not the first time he had been involved in an industry development in Kingaroy.
"I helped out with the build at Swickers for the temporary boning room," Mr Tubman said.
"It's great to be part of another new development.
"The building site is about to get really busy, especially when all the services are here.
"In peak time we have about 30 to 35 blokes on site."
As stage one is expected to be finished by November 2020, he said the commercial operations would follow shortly after.
"We are hoping to be in production by January 2021," he said.
"At the moment the tree nuts are doing really well, like walnuts, macadamias, almonds and peanuts.
"We have several new consumer products under development that we intend to introduce to the market in coming few years.
"The master planned facility allows this growth to be sustainably produced.
"Once we are in operations, we will be able to commence with stage two and three."