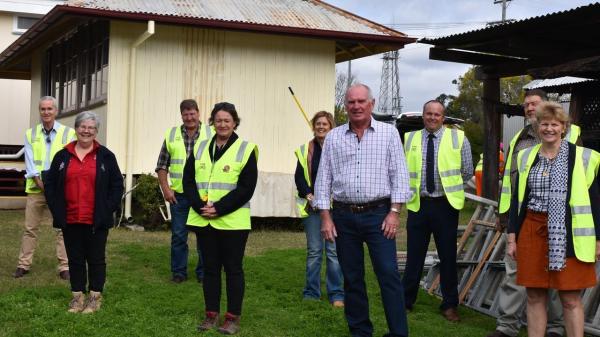 by Laura Blackmore and Julian Lehnert
A Burnett town has undergone a long-awaited transformation after 40 Rural Aid Community Support volunteers took to the streets with their paint brushes.
Gayndah welcomed Rural Aid volunteers and staff as they worked together to start their long-term renewal projects from 26 July to 1 August.
These renewal projects were initially mapped out in early 2020 during a three-day Gayndah community workshop, facilitated by Rural Aid and Bank of IDEAS community change and renewal expert, Peter Kenyon.
The renewal ideas flowed freely with active workshop participation driven by the Gayndah community representatives including local councillors and resulted in the completion of a community development plan.
Rural Aid CEO John Warlters said these long-term renewal projects were made possible thanks to the generosity of their volunteers in giving their time and expertise for such a great cause as well as the remarkable Gayndah community.
"Our thanks also go out to Evolution Mining for their generous $100,000 donation to support community activities across multiple years," he said.
"Many of their Mt Rawdon's mine employees and their families live in this area and their community will benefit from the work being done, the financial injection and most importantly, the community coming together for their town's future.
"Monto, Queensland will be the next town to benefit from Evolution Mining's generous donation when Rural Aid's Community Support team and volunteers arrive to undertake renewal activities between 30 August to 5 September 2020 to assist the Monto community.
"I would also like to thank Ergon Energy Network for adding their support to the Our Towns initiative.
"Ergon Energy Network has also invested $40,000 to support Queensland Our Towns, with Gayndah being their first."
The historic Barambah Creek State School building on museum grounds received a fresh coat of paint by Rural Aid volunteers last week.
Workers also repainted and reinforced other sheds and doors around the museum.
Rural Aid volunteers also built from scratch a display area for the museum's collection of cast-iron farming equipment, which was previously located on the lawn.
Museum president Cynthia Berthelsen said she was amazed by, and deeply thankful for, the efforts by the volunteers, whom she claimed went "above and beyond" to renovate the museum's buildings.
Rural Aid volunteers also worked tirelessly at Gayndah's racecourse on Fisher Avenue, providing the heritage-listed location with a new main gate as well as a fresh coat of paint on some of the course's main buildings and fencing.
The Gayndah projects being worked on by Rural Aid's staff, volunteers and the Gayndah community included the Gayndah Showgrounds, Gayndah Racecourse, Binjour Bowling Club, Gayndah Railway Complex and Rail Trail, Gayndah Historical Society and Gayndah Girl Guide's hall.
The Rural Aid team said they wanted to thank many of the local businesses, like the saw mill, for providing in kind contributions to support renewal activities.
The Our Towns Makeover initiative is Rural Aid's way of supporting small rural communities.
Over the next five years, 10 selected towns will each receive $100,000 in projects and support to renew their town.