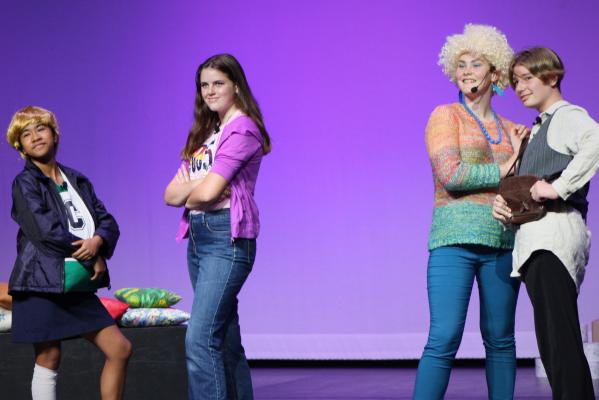 Kate McCormack
One of Kingaroy State High School's most beloved traditions, their annual Flair concert went ahead last week to the delight of students from grades seven through to senior.
Historically held in the Town Hall for the wider Kingaroy community to attend, 2020's Flair took place on the last day of term in the high school's performing arts centre, affectionately dubbed "KPAC".
KSHS music and dance teacher, choir conductor and Flair organiser, Sue Dowideit-Reiger said this year's concert showcased the talents of more students than ever before.
"We had about 150 students in total perform this year, so it's definitely been one of our biggest years to date," she said.
"It's always really rewarding to see the passion and professionalism from our students, but I have to say this year was particularly inspiring to watch it all come together."
This year's Flair had a much shorter turn around than previous years, with auditions only held three weeks ago.
"We only decided to go ahead with Flair about mid-way through this term and to make it a Covid safe event we had to host it as a student and teacher only show," Mrs Dowideit-Reiger said.
"So it was a little bit disappointing that parents were not able to attend this year but on the other hand it was nice for all of our students to have the opportunity to see what Flair is all about and how fun and rewarding all the performing arts subjects and opportunities at KSHS can be."
Fellow KSHS teacher and concert coordinator Caitlin Penfold said this year's Flair was particularly student driven.
"We had 31 acts all up this year, with the performers fairly well spread over all the age levels but we have a particularly great year nine cohort who are very talented performers and have always been heavily involved with Flair each year since they were in grade seven."
Ms Penfold said her favourite act this year was the year nine Kath and Kim skit performed by Lily Ballin, Andy Conroy, Charli Camkin and Abigail Rodelio.
The heavily Covid-inspired performance saw the lovable Aussie icons, Kath, Kim, Sharon and Kel preparing for lockdown by hoarding countless "toot" rolls from Fountain Lakes shopping centre and the ever-crafty Kath don a "noice, different and unusual" bedazzled mask to go with her favourite gum-nut earrings.
Despite only having one tech-run the night before both Mrs Dowideit-Reiger and Ms Penfold wanted to congratulate the students on their high level of preparation and dedication.
"The success of this year's Flair is a real credit to the students who performed and our school leaders who helped make it happen," Mrs Dowideit-Reiger said.
Principal Ashley Roediger said he was proud of how many students chose to get involved with this year's Flair concert.
"This is my sixth year as principal and my sixth Flair concert and I have to say I think this was one of my favourites," he said.
"We're very proud of how our students have managed to get through this year and make the most of it by getting involved with school events and activities.
"It's events like Flair that make your high school years all the more memorable and we didn't want our students to miss out on making those memories in 2020."