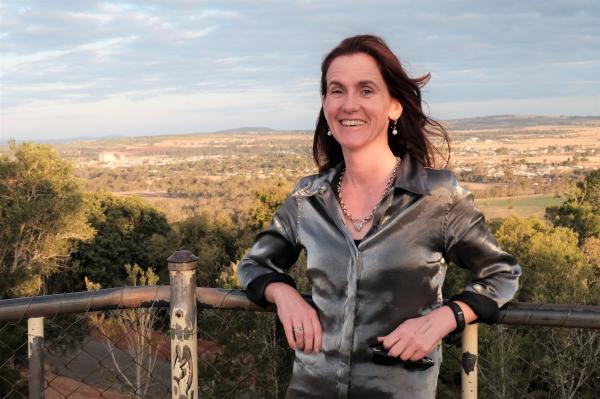 by Jessica McGrath
'Ambulant' is a word deriving from Classical Latin meaning 'being able to move about and walk'.
For Jess Hodgson it is a word of empowerment, "the enabled disabled".
She is on a mission to spread awareness and understanding of what she defines as "silent illnesses" – neurological conditions people might not see at first glance.
The passionate Kingaroy woman plans to launch a not-for-profit support group to achieve this goal and help those living with silent illnesses step out of the shadows.
"It's good to address the issue of disability as a community," Jess said.
"To be a warrior of an illness you have to be brave, tenacious and strong."
The 'Silent Rare Disease 4610' group (t.b.c.) will have its first meeting on 1 October at 4pm (location t.b.a).
"It's for anyone who has any disease or illness that isn't easily diagnosed," she said.
When the Kingaroy mum of three won the 2020 Wondai Country Running Festival's All Abilities Race in July, she was wearing a yellow high-vis shirt covered with logos of support from businesses and three letters on the back – H.M.S.
These three letters stand for 'Hemiplegic. Migraine. Stroke.'
"I don't want anyone around the world to go through what I have."
What is HM?
Jess lives with 'hemiplegic (migraine)' which, put simply, is a rare chronic disorder where an individual experiences migraine headaches along with weaknesses, or paralysis, on one side of their body.
"This is not a 'normal' migraine."
It results in involuntary contractions of the muscular system, 'mimic strokes', disorientation, confusion and other neurological symptoms.
'Alice in Wonderland Vision Syndrome' is something Jess experiences.
"It's like walking and everything is out of distortion," she said.
However, her mind does not stop when these symptoms come about.
"It's a special kind of hell to be locked inside a body that doesn't work, for hemiplegics this is all of the time, it doesn't go away."
Her key triggers such as too much light and sound are similar to someone with epilepsy.
"A fluorescent light is a nightmare," she said.
"I don't ask the environment to change, instead I find ways to adapt to that environment.
Post Traumatic Stress Disorder, complex anxiety and other social disorders are secondary to HM.
Glasses and headphones help with blocking out light and noise, and she uses Auslan sign language when tetnae (severe muscle spasms, especially in the neck and jaw) makes it hard to speak.
As I met with Jess to chat about her story, little things that rarely bother most of us like the heat, traffic noises from the roads or a storm building up above often become a problem, and because of this she is unable to work.
Special memories
Jess shared with me why Mt Wooroolin was a special place for her.
It's a spot where she can challenge herself by running to the top, and be free from the lights and noises.
Even as we were taking photos at the lookout, she had to fight her body to relax.
The leap year evening on 29 February 2020 marked a milestone for the determined runner.
She was at a Brisbane clinic when a nurse accompanied her on the pathway alongside the Brisbane River.
"I got my brain to talk to my legs," she said.
Jess ran for the first time since one of her more aggressive episodes in 2019.
"When I ran then it was maybe 100 metres."
She is also a member of the Kingaroy Nutters Running Group.
Finding safe places
Safe places at businesses around the Burnett are important for people like Jess.
She would like to see businesses put a logo in their windows to let people know it is a "disability safe place" and work towards creating further safety in the community for those with a disability.
"There's kindness and compassion here in Kingaroy, I'm proud to call 4610 home," she said.
She's been overwhelmed by the support from Mayor Brett Otto, Cr Danita Potter and Mary Bryant from the South Burnett Regional Council.
A number of businesses like Kingaroy Office Central sponsored Jess as she embarked on the challenge of the Wondai Running Festival.
Store owner, Susan Robertson said she had known Jess for many years.
"I find her to be quite an inspirational person," she said.
"She'd been doing a lot of training and decided to do the all abilities race."
Ms Robertson said not many people realise how debilitating living with a disease like HM can be, and said she admired Jess for being strong enough to advocate for others who were struggling with silent illnesses.
"She can't seem to get it out there that it's a real thing," she said.
"Hers is an insidious condition which makes it look like something she's not.
"She's such a smart lady and yet people don't often take her at face value."
Kingaroy Office Central works hard to make sure their store is friendly to all by keeping aisles as wide as possible so people with wheelchairs can come in.
Jess is an extremely determined, bright woman, but is not always able to communicate this because of her condition and wants to champion a town where more people live each day with an open mind.
She's worked in retail, studied science and environmental chemistry, worked as a underground geochemist, professional writer and a farmer.
"By accident I did things that made my disease more aggressive," Jess said.
She was not diagnosed with HM until later on in life, even though she was born with the disorder.
"I'm learning every day to live with and accept my own disability," she said.
She lives in hope for the future, for herself and others in the community who are suffering with the dream that through launching 'Silent Rare Disease 4610' together they won't have to live in silence.
For more information about joining the group and attending the first meeting next month, contact the Burnett Today office.