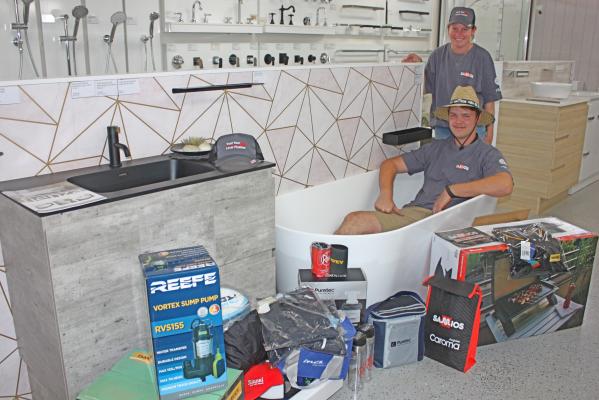 Kate McCormack
Thanks to Samios Plumbing Supplies Kingaroy Melissa Kuhrt is able to give her daughter and soon-to-be first time home buyer the perfect 21st Birthday present.
The lucky mum said she's never won anything in her life so was over the moon to receive a phone call last week telling her she was the winner of the Burnett Today's B2B competition.
"I was at work when I got that call so I wasn't able to answer right away but when I listened back to the voicemail I was absolutely stoked to hear I had won," she said.
"I've never actually won a big raffle prize like this so it was a great surprise."
And what a mighty big prize it was to, with over $2,000 worth of prizes Melissa was flat out fitting everything in her car.
"My partner will have to come back to get the bath tub and sink as I didn't have room in my trunk," she said.
"I am planning to give the bathroom items to my daughter and her partner as they are planning to buy their first house very soon and I figure they will probably have to do up some of it.
"This worked out so well because I wasn't able to give Mikaylah a big 21st birthday this year with all the Covid-19 rules in play, but now I can give her a brand new bathroom so that should make up for it."
Melissa said she's a born and bred Kingaroy girl and was keen to support the B2B or Business to Business initiative as soon as she heard about the competition running in the Burnett Today newspaper.
"I've always shopped locally when I can because it just seems smart to keep our local dollars here in the community," she said.
"More money in the community means more local jobs and more opportunities for young people which is what you need in regional towns like Kingaroy."
Along with a brand new bath tub and sink, Melissa took home a pizza oven, a brand new BBQ, a water filtration system, a garden watering system plus loads of great plumbing merchandise including several hats, t-shirts, lunchboxes, coolers and water bottles all thanks to the team at Samios Plumbing Supplies Kingaroy.
Branch Manager at Samios Plumbing Supplies, Carl van Schyndel said it was important for local businesses to team up with and support other local businesses wherever possible.
"At the end of the day we're all going to benefit from seeing more business through our doors, with Covid-19 it's even more important to keep your dollars here in our community and that's why Samios is so passionate about this B2B program," he said.
"The more we shop and support local, the better for our wider community."
Burnett Today would like to thank all of the local businesses who supported the B2B initiative as well as all of the community members who entered the draw.
When we all shop and support local, great things happen.