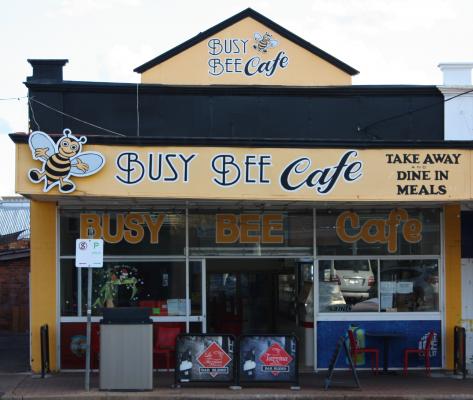 Kate McCormack
A university student from Kingaroy has pleaded guilty to stealing over $4700 dollars from a local café in magistrates court last week.
Miss Brianne Lesley Lapworth-Gowland, 20, appeared in Kingaroy Magistrates Court on Tuesday, 29 September and pleaded guilty to one count of stealing by clerks and servants.
Lapworth-Gowland had formerly appeared in the court for mention back on 31 August 2020 charged with 106 counts of stealing by clerks and servants.
Police Prosecutor Pepe Gangemi explained the charge had since been amended to cover the entire period of offending.
The court heard Lapworth-Gowland stole $4733 between 20 October 2019 and 5 January 2020 from the Busy Bee Café in Kingaroy while she was employed as a part-time staff member.
Senior sergeant Pepe Gangemi explained Lapworth-Gowland had taken cash from the cafe's till on 36 separate occasions while working, with the total amount of stolen funds adding up to $4733 .
Lapworth-Gowland's defence lawyer, Lisa Taylor from Armstrong Legal in Gympie said her client was 19 at the time of offending and is currently studying a dual bachelor degree in criminology and criminal justice and information technology.
"She is not currently employed and is residing in Brisbane away from her family but spends a lot of time in Kingaroy with her family," she said.
"She is also a volunteer for Meals on Wheels and the local football canteen."
Ms Taylor said Lapworth-Gowland provided no defence or excuse for her conduct and accepted her behaviour was dishonest and completely unacceptable.
The court heard at the time of offending Lapworth-Gowland had been employed at the Busy Bee Café for a period of two and a half years without issue before the offending occurred.
"She was immediately remorseful upon being confronted by the employer before she was charged," Ms Taylor said.
"She apologised to the victim business and she offered to repay the money that she had taken, that was refused by them… She then deposited the $4733 directly into our trust account for immediate payment of restitution and that deposit occurred around March this year, so restitution is ready to be paid immediately."
The court heard Lapworth-Gowland does not have a criminal or traffic history.
"Initially a full brief was ordered on the basis that our client was charged with additional offences that she was not going to admit to, however she always intended to plead guilty to the offences she was ultimately responsible for and that she is fronting the court today to enter a plea of guilty," Ms Taylor said.
Magistrate Andrew Sinclair said it was uncommon for the court not to record a conviction when it came to charges involving stealing by clerks and servants.
"In your case I've decided to exercise my discretion and not record a conviction, that is highly unusual. It is usually the case that people who steal from their employers can expect a period of imprisonment and for a conviction to be recorded," he said.
"In your case it's your youth, your early plea and the fact the money has effectively been paid back already and most importantly… your true character is defined by the fact you already do voluntary work in the community, rather than by this one mistake."
Mr Sinclair ordered Lapworth-Gowland to complete 200 hours of unpaid community service within the next twelve months and for the $4733 to be paid by way of compensation to the complainant within 14 days.
No conviction was recorded.