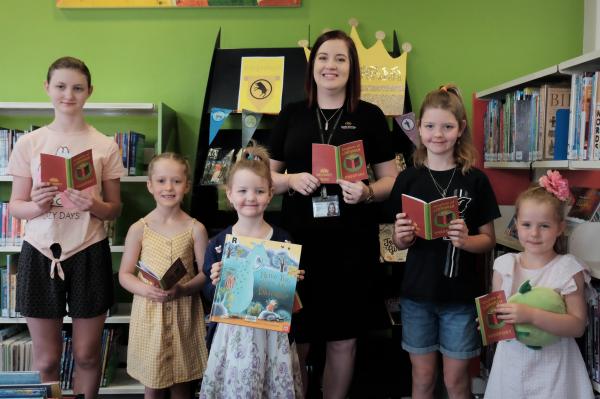 by Jessica McGrath
Reading books can be quite an adventure and the Kingdom of Libraria citizens are keen to share their world.
South Burnett librarians Danielle Mengel and Jessica Harm are ready to spark the imagination of the next generation of readers.
The recently launched 'Kingdom of Libraria' loyalty program for children in the South Burnett is designed to capture young library members.
"By basing the program on a magical Kingdom, children are transported, via their Kingdom of Libraria passports, to a land of whimsical characters, mini missions and bonus activities," Ms Mengel said.
Libraria is a Kingdom formed of six houses such as Buttopia, Nangoonida, Kingsmoor, Wonhaven, Murloch and Prostonia, which are based off the six South Burnett libraries and their respective townships.
"By creating Libraria this way, a magical world has been created that is based on real world destinations," she said.
"Although there is no need to physically visit each of the libraries to complete the program, bonus prizes are available for those who wish to explore the South Burnett region."
Allison Baldwin, 9, said it was fun using her passport at the different libraries around the region.
She especially likes reading books like the "Theo Stilton" series which are full of animals and mysteries to solve.
"I get to imagine I'm where the story takes place and I get to see what the characters do," she said.
Ms Mengel said the libraries wanted to make reading fun.
"Reading is a fundamental part of learning and development in children and can help them discover what interests them," she said.
"The library is a wonderful place to explore these interests."
The Kingdom of Libraria loyalty program is designed to encourage children to visit their library and get to know the staff and resources that are available to them.
The children not only have free access to books, but also magazines, audiobooks, comics, and online resources such as Story Box Library and National Geographic.
"Our aim is to help children read what they enjoy, whether they are reading for information, entertainment or escapism," Ms Mengel said.
"Libraries provide a safe space for all to come in and learn, socialise and exercise their creative abilities."
Those who take on the mission of the Kingdom of Libraria are encouraged to find books about their favourite animal and even visit all six South Burnett libraries.