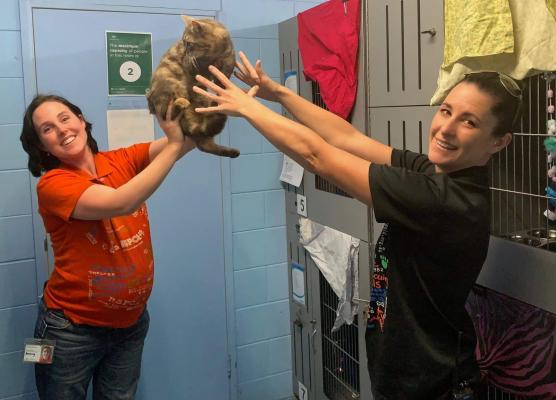 Kate McCormack
There's been a changing of the guard at the Kingaroy RSPCA shelter recently with long-time animal carer Wendy Stratford taking over as the animal care manager while Bonny Clacy embarks on 12 months of maternity leave.
Ms Stratford said she's been with the local rescue shelter for nearly five years and is just as passionate about animals and seeing them get a second chance as she was when she started out with RSPCA.
"The best part of working for this amazing organisation is being involved in making a difference for an animal in need," she said.
"We see them come into the shelter sick, scared, malnourished and not trusting humans anymore. As a team, we get to be a part of their rehabilitation and see them start to love and trust again and go on to be adopted.
"It's the most rewarding feeling. I absolutely love my job."
Throughout her four years with RSPCA, Mrs Clacy said she was fortunate enough to work her way up to a managing role and is planning to continue her studies in vet nursing in the future.
"I've always wanted to work with animals and had been studying to get into the field as well as management studies and experience so when the job was advertised I applied straight away.
"I started out as assistant manager then worked my way up to acting animal care manager then animal care manager… I love that I am in a position to really make a difference along with the help of many amazing dedicated and passionate people. I feel like I really found my calling at the RSPCA," she said.
"I am currently studying a wildlife management certificate and am enrolled to begin studying an advanced certificate in vet nursing while on maternity leave in order to upskill and continue learning more about animals and conservation."
Ms Stratford said the Kingaroy RSPCA is currently planning a cupcake day event later this month to help raise funds for their shelter.
"Cupcake day is on October 26 and Cake'A'Licious has offered to open their store to sell cupcakes with half of the proceeds going to the RSPCA," she said.
"We will have more information on this closer to the date."
Meanwhile, Ms Stratford mentioned the Kingaroy RSPCA shelter looking at completing a volunteer induction in the coming weeks.
If you are interested in volunteering, head to the RSPCA website and fill out an application form and the Kingaroy team will contact you when they have an induction date set.
Follow the Kingaroy RSCPA Facebook page to stay up-to-date with future events and information.