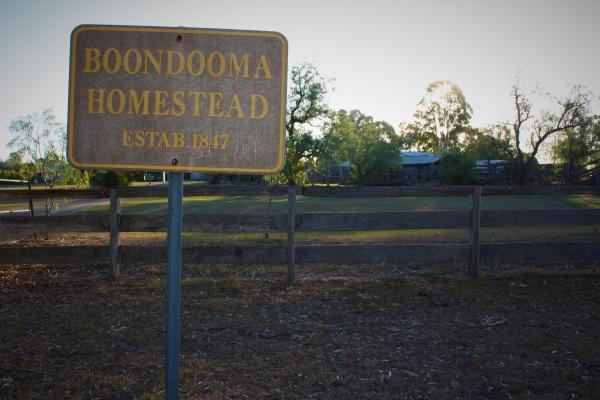 Kate McCormack
The Burnett could well be the next big dark tourism destination, with a number of historical haunts continuing to pop up on the bucket list of avid ghost tourists.
Paranormal expert and historical tour leader, Katie Harvey recently lead a frighteningly fascinating tour of the South Burnett's Boondooma Homestead and the Burnett Today was fortunate enough to take part.
After her team's highly successful investigation into the Maidenwell Hotel, Katie said she is completely certain the popular pub is full of things that go bump in the night.
"Our recent investigation uncovered lots of paranormal activity inside and around the Maidenwell Hotel and we've since held our first story tour which was a great success as well as a lot of fun for both my team and our guests," she said.
"Now we have another tour of Boondooma Homestead coming up again in November and spots are already selling quite quickly."
Dark tourism has previously been defined as tourism involving travel to places historically associated with death and tragedy.
But it's not all about blood, gore and morbid curiosity, as most dark tourists share a love of history as does Katie Harvey and her team of tour leaders.
"I think one of the main reasons we love returning to Boondooma Homestead and why our guests have such a good time here is because of the fascinating history behind the station and the people who ran it," Katie said.
Fascinating barely begins to cover the decades of mystery, controversy and intrigue which envelops the Boondooma Homestead and the once enormous expanse of land which made up the sheep turned cattle station.
Now a heritage museum with cabin accommodation and camp sites, Boondooma Homestead is overseen by Jo-Ann and Graham Stubing who have been taking care of the grounds for 12 months.
"According to the books, we've just had the busiest June, July and August period in 20 years so it's just been go, go, go for us," Mr Stubing said.
"We think the Covid-19 travel lockdowns have actually see a lot more travel within Queensland which has been great for Boondooma Homestead."
Mr Stubing has taken it upon himself to learn about the history of the homestead and station by reading up on the diaries of the original owners of the Boondooma Run which was originally founded by three Scotsmen, the Lawson brothers and Robert Alexander, in 1844 with 500,000 sheep.
"The early success of the station was largely due to the 300 Chinese families who worked as shepherds, but for some unknown reason they all walked off the property in 1852 en masse."
The mysterious nature of the station lends itself to the perfect location for one of Katie Harvey's ghost tours.
"The station was so vast and was home to so many different people from different backgrounds and nationalities, it makes for a very interesting experience," Katie said.
"My team and I really enjoy coming back to Boondooma because we always have such a great experience and uncover so many different narratives from the spirits here on the station."
To join Katie and her team on their next haunted sleepover at Boondooma Homestead on November 21, simply direct message Katie Harvey Paranormal Experience on Facebook to secure a spot.