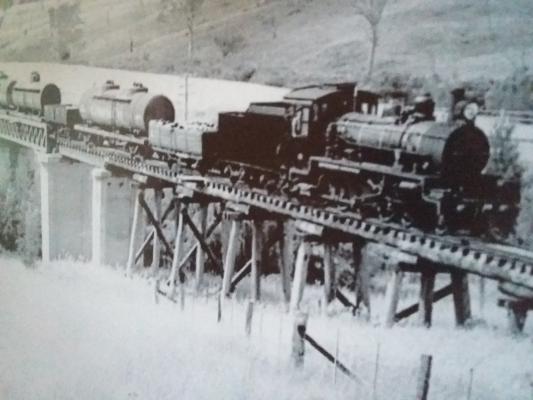 by Julie Berry
The Brisbane Valley railway line was a railway connection in Queensland connecting Ipswich, west of Brisbane to the upper Brisbane River valley.
Progressively opened between 1884 and 1913 the railway provided a vital transport link between Ipswich and Yarraman and forged development and prosperity along its path.
The line acquired its serpentine reputation because it did not take a straight course when faced with a hill or gully.
Steam trains carried cargo across Cooyar Creek to Yarraman from Ipswich and Brisbane from 1913 until 1969, when diesel engines replaced them.
The Blackbutt area was first settled by Europeans in 1842 when the Scott family established Taromeo Station at the top of the Blackbutt Range.
The timber towns of Benarkin and Blackbutt were jointly founded 45 years later, on land ceded from Taromeo Station by the Scott family for that purpose. Blackbutt itself was named for the eucalyptus piluralis tree which is native to the area (specimens still grow along the southern entrance to the town).
The railway line was opened to Benarkin in May 1911 and via Blackbutt and Nukku to Gila in December 1912. From Benarkin and Blackbutt large quantities of timber were transported.
The line branched from the main western line to Toowoomba at Wulkuraka a short distance west of Ipswich and struck a north-westerly route towards Fernvale and Lowood before continuing on via Toogoolawah and Blackbutt to Yarraman.
It became one of the few branch lines to accommodate passenger and mixed trains and the introduction in 1928 of rail motor services ensured that it retained an important passenger traffic role.
Passenger services beyond Toogoolawah ceased in 1967, with the Toogoolawah railmotor being withdrawn in 1989 and the entire line closed in 1991.
These days the former railway line is a popular recreational rail trail, the Brisbane Valley Rail Trail, that has been built over much of the railway. The trail is open to and extremely popular with walkers, cyclists and horseriders.
The photograph of the former Nukku Siding which was a stop on the train line at Nukku, has been moved to Blackbutt to be preserved as a tourist attraction. The siding was not called a train station because it was too small for that title. But it was vital to the once prosperous logging industry in the area.