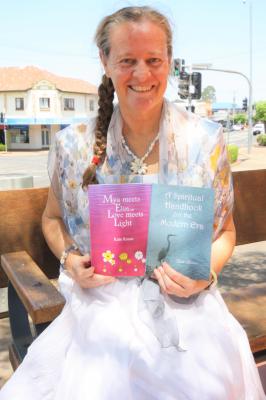 By Kate McCormack
At one stage in her life, Kate Rouse thought writing a book may well be the last thing she ever did.
During a particularly bad bout of pneumonia in 2011 the well travelled author found herself contemplating her mortality and spent much of her time thinking about what she'd like to write in a book if her time in this life was coming to an end.
Now 55 and full of life, Kate is the proud author of four books, 'The Diary of a Happy Dropout', 'Still a Happy Dropout', 'A Spiritual Handbook for the Modern Era' and her most recent achievement, 'Mya meets Elin or Love meets Light' which explores a number of themes and topics surrounding bullying and is a spiritually inspired novel for young people aged 14 and up.
Kate said she wrote 'Mya meets Elin or Love meets Light' to help share ideas from 'A Spiritual Handbook for the Modern Era' which explores a number of spiritual and existential topics Kate found herself pondering throughout the course of her sickness.
After months of writing, editing and re-editing the handbook first emerged in 2012 and Kate said she hoped it would help people feeling confused during a troubling or difficult time in their lives.
The book was first published in 2013 but has recently been re-published in a joint venture with Kate's school friend Wendy Blake through Zephyr Publications.
"I found writing 'A Spiritual Handbook for the Modern Era' to be a very cathartic experience for me because it allowed me to discuss a number of topics I'm passionate about and gave me the opportunity to put these down on paper to share with others," Kate said.
"I think when you're in a stage of your life where you're not exactly sure how much time you've got left it's a relief to have an outlet that will help you leave a legacy."
Born in the Albury in the Riverina region of New South Wales, Kate and her partner Shayne moved to the Ballogie region two years ago to purchase land and establish a horse stud.
"We also decided to move to the South Burnett for the good climate and we wanted to live in a nice rural area and we are loving it," Kate said.
"The people are friendly and helpful and we really like that."
As a result of the pneumonia Kate now struggles with myalgic encephalomyelitis, more commonly known as Chronic Fatigue Syndrome (CFS) and as a result has since had to find a way to restructure her day to day life to manage the overwhelming sense of weariness whilst still finding ways to pursue her passions, including writing.
"It's not a straightforward syndrome to live with, a lot of people misunderstand it and think you're just a lazy person but there's a lot more to it than that and unfortunately there is very little proven research on the matter," she said.
"As time has gone by I've become better and better at managing the bouts of fatigue and I've found different coping mechanisms that have helped me."
You can find out more about CFS and the different methods Kate has employed by reading this week's Regional Health column.
If you'd like to purchase either 'Mya meets Elin or Love meets Light' or 'A Spiritual Handbook for the Modern Era' you can purchase copies from Amethyst Moon in Kingaroy or Tranquility and Soul in Wondai, or via Kate's website, www.katerouse.com.
You can also catch Kate at the Wondai markets this weekend on Saturday, 28 November and the Nanango Markets next weekend on Saturday, 5 December.