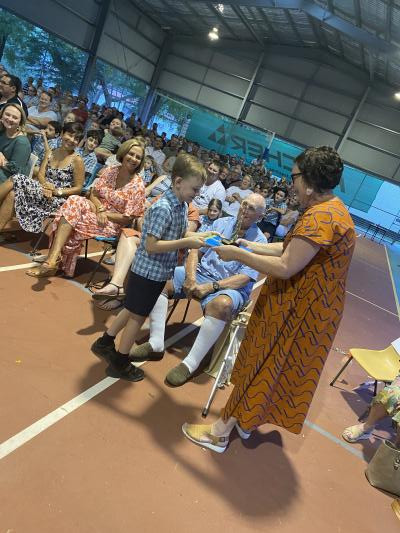 by Julian Lehnert
Gayndah's St Joseph's Primary Catholic School held its annual awards night last week, congratulating students and staff for their efforts throughout the year and bidding an emotional farewell to the graduating class and the school's principal Terese Shephard.
The school honoured pupils with nine awards in total, ranging from accolades for leadership to excellence in sport, arts and studies.
Following the awards ceremony, students, staff and parents said their goodbyes to Year 6 students who will now move on to other schools in the region for their education, Karen Harrison, senior leader for Progress and Performance for schools, who will be replaced by Brett Horton in 2021 and principal Terese Shephard, who will be succeeded by Bec O'Connor in the new year.
Ms Shephard took on the role of principal at St Joseph's in 2018, leading the school in its centenary celebrations in 2019.
Before her departure, Ms Shephard invited those in attendance to reminisce on the challenges and positive aspects of the year.
"Some events were not possible, some sports were cancelled, some of you and some of our staff missed out on seeing family overseas and lots of people missed out on special holidays," she said.
"However, I'm a glass half-full person. I like to focus on the positive and what I have to be grateful for. We are all here, alive and together celebrating the 2020 school year," Ms Shephard added.
Under her leadership, St Joseph's rolled out iPad tablets to students throughout the year, and pupils participated in NRL, football, cricket and swimming exercises as well as online learning programs.
"I have been blessed every school day working with each of you and I congratulate you all on your efforts over this year," Ms Shephard said.
"I have grown as a leader thanks to the many successes and challenges that have been part of these past three years."
"Everything I know about being a principal I have learned from you St. Joseph's. St. Joseph's will always hold a special place in my heart," she said.
"It has been a great honour to serve this school community."
Awards:
Peter Dunn Encouragement Award – Casey McCosker and Archie Webster
North Burnett Regional Council All Rounder Award – Shyloh Terry
Dougherty Family Arts Encouragement Award – Giselle Hitchcock and Alyce Doyle
Good Samaritan Award – Parker Hetherington (prep), Blake Scott (Y1), India Webster (Y2), Elyjah Terry (Y3), Blake Harris (Y4), Livia Roth (Y5), Ella Smith (Y6)
Masonic Rose Croix Junior Diligence Award – Noah Teague
Heather Barbeler Memorial Encouragement Award – Isaiah Sturgess and Xavier Roberts
Gayndah Married & Singles Club Award – Ella Smith
Mick Lutvey Bursary – Poppi Chambers
St. Josephs' Staff Academic Award – Poppi Chambers