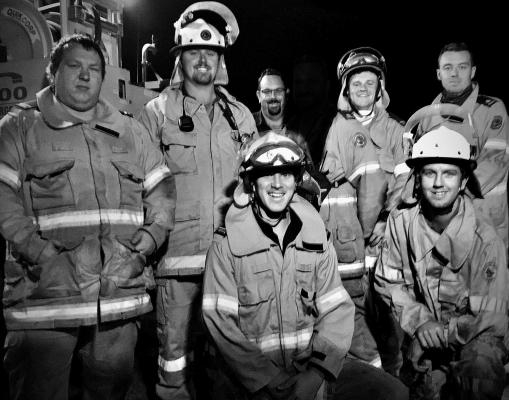 Kate McCormack
After 10 wonderful years of leading the McEuen Rural Fire Brigade and training up dedicated local firefighters, former first officer Greg Day has handed over the ropes to young newcomer Bryce Swift.
At just 24-years-old Mr Swift may be one of the youngest rural fire brigade first officers to date, but what he lacks in years of experience he makes up for in passion for his community and his local brigade.
"I've certainly got some big boots to fill that's for sure," Mr Swift said.
"Greg has been an excellent first officer for the past decade and he's been an invaluable teacher and part of the McEuen team.
"He was actually the one who approached me about joining the McEuen brigade four years ago after we returned to the region and I haven't looked back since.
"I've really enjoyed my time with the rural fire brigade so far and I'm looking forward to this next chapter as first officer."
Mr Swift said the brigade currently had 13 regular fire fighters as well as several other dedicated members who helped make up the highly supportive, tight-knit team.
"We currently have eight officers, including myself so it's been great to see the brigade grow and our members put their hands up to advance from fire fighters to officers this year," he said.
Mr Day said after a decade with the McEuen Brigade it was a tough decision to leave but after moving to the Booie region to be closer to family and start up a new property he said he felt like he was leaving the unit in safe hands.
"It was definitely a tough call to make after so many years and such great memories with the McEuen Brigade, but I've thoroughly enjoyed my time as first officer and am looking forward to joining a rural brigade closer to our new property in Booie down the track," he said.
"I'm particularly proud of how many new young blokes and the one lady at McEuen who have recently put their hands up to become officers, it's great to see all the fresh faces joining and wanting to learn as much as possible to benefit their local brigade and community."
Both Mr Day and Mr Swift agreed the McEuen Rural Fire Brigade was a great group of people and a wonderful community organisation to be part of.
If you are living in the McEuen area and looking to join a rural fire brigade, simply head to the McEuen Rural Fire Brigade Facebook page and send them a message to find out more about how to get involved.
Alternatively you can also register your interest and find out more information by heading the the Rural Fire Brigade area office in Kingaroy beside Subway or you can call Bryce Swift on 0419 270 022.