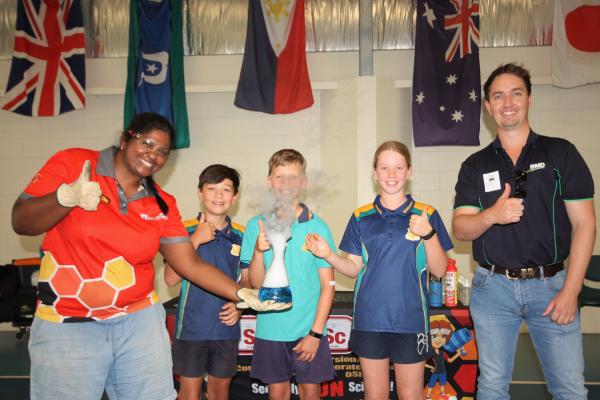 Kate McCormack
Several South Burnett state schools received an exciting visit from Street Science's Dr Shaz recently thanks to the support of QUT's STEM Widening Participation Program as well as some very generous funding from BMD Group, a national construction company with links to the region.
After gradating from Nanango State High School in 2011, Craig Paterson went on to study Bio-medicine and civil engineering at the University of Queensland and now works as an engineer for BMD.
He said his company could see the many benefits of supporting regional students and encouraging them to pursue Science, Technology, Engineering and Maths (STEM) related subjects in high school and at university.
"We believe it's really important students in areas like the South Burnett know that these are options they can choose, that nothing is out of reach to them just because they don't live in bigger metropolitan areas or go to a school with a huge, multi-million dollar STEM programs.
"That's why BDM decided to provide the funding necessary to get programs like Street Science and QUT's STEM Widening Participation program out to our region for the next three years."
The project engineer said these were opportunities he wishes he's had more access to group in regional Queensland and is proud to be part of a company that is now making this a reality for South Burnett students.
"When I was growing up in Nanango we didn't have science shows or scientists coming to our school showing us what a career in the STEM fields looked like, so I never really imagined a job for myself in these areas.
"I'm glad more local students are now getting the opportunity to see that they are just as capable of a career in the STEM industries, thanks to this great partnership between BMD, QUT and Street Science."
Coordinator of the QUT STEM Widening Participation program, Sara Sheather said unfortunately up until now the South Burnett region fell outside the Street Science show funding zone, meaning local school children had missed out on participating since 2013 but all that was about to chance thanks to BMD's generous contribution.
"It costs about $20,000 per year to bring the Street Science show out to regional parts of Queensland, and now thanks to BDM South Burnett students won't have to miss out which is great because STEM should be an avenue available to all students, no matter where they live."
Mr Paterson and Ms Sheather also held career discussions with year 10 and 11 students at Kingaroy and Nanango Sate High Schools to help give students a better idea of the different avenues students can take if they wish to peruse STEM careers after high school.
Meanwhile, Dr Sharon Samuel from the Street Science show amazed and delighted the primary school students across the region with her incredible science show which which involved dry ice, balloons and a number of colourful explosions.
Kingaroy State School captains, Saige Scott, Alex Farmilo and Stanley O'Hanlon all said they were looking forward to trying out more science subjects after getting to High School next year.
"I'd really like to study chemistry at high school because I'd like to do experiments similar to some of the things Dr Shaz did today," Stanley said.
After taking the Street Science show on the road for the past three years, Dr Shaz says she still really enjoys seeing the wonder and joy on students faces.
"I just think it's so cool that kids think science is cool and that I am cool, hearing them get excited about science is so much fun for me.
"Showing primary school students that science really is everywhere, because it is – it's happening all around us, all the time – helps me give my shows context and makes what I do more relatable.
"And if I help encourage more young boys and girls to pursue science-related subjects in the future, well that's even better."