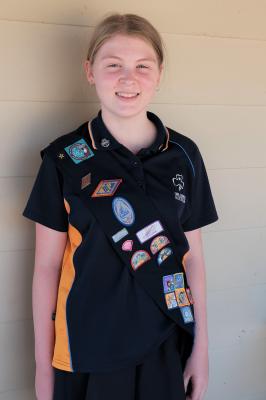 Many of us could learn from someone younger than us if we take the time to listen. Maggie Livett is particularly fond of animals and is a proud Kingaroy Girl Guides member. The 13-year-old girl with a big heart shares her thoughts as this week's Burnett's Best guest.
1. What's your favourite spot in the Burnett?
The Bunya Mountains because I like being surrounded by birds, plants and animals. I want to be a zookeeper or park ranger when I grow up. Animals make me feel very accepted and calm.
2. What is one thing you think this community needs?
Although the South Burnett is a very accepting place, I think there needs to be more places where people can be accepted, because not just girls have trouble with being accepted and confidence problems and things. I think there needs to be a place for everyone, old and young.
3. What would your friends and family say is your most annoying habit?
Making jokes and laughing when it is a serious conversation. I'm a real jokester.
4. What is your favourite drink?
Iced coffee
5. What is the best advice you have ever received and who did you get it from?
The best advice I've received was from mum and she told me that 'You can be bigger than your surroundings'. So standing up to what you love, standing up to the people that are hurting you, or even strangers, and to just love yourself and everyone you meet, whether they are nice or not.
6. What is one thing you love about Girl Guides?
They are caring people.
7. If you could go anywhere in the world right now, where would you go?
Up north to El Arish, it's two hours south from Cairns. We moved up there when I was in Grade 1 and we stayed there for three years. I have moved a lot of times, but that has to be my favourite place I ever went to and probably the saddest I ever was to leave it because of the people there weren't like anyone I had really met. It was just a really amazing school, there was only 50 kids there and everyone loved you the minute they saw you. When it rained, even if it was in the middle of a test, they told all of the kids they could go play in the rain.
8. What is one thing on your bucket list?
To go to New Zealand because we've got some good friends there that have known me since I was born. One family friend in New Zealand works with the penguins and other animals in the cold. That was very inspiring when I learned what I wanted to be.
9. What is your favourite animal and why?
My dog 'Milo'-he thinks he is a baby. He was given to us by a lady who didn't want him anymore. He's an Australian-Silky Terrier-cross Schnitzel and one day he became paralysed in his hips. We had to syringe feed him day and night, and drop everything else to look after him. He's probably my best friend in the whole world.
10. What's a goal you'd like to achieve when you grow up?
It's a pretty big dream really… I want to stop child abuse because with a lot of my friends I was really quite oblivious that anything was going on in their lives. I had a friend whose older brother had to grow up really fast to look after her. There's a lot of people around me that I can see how much it is affecting them, but they've turned out to be beautiful people because they received the right help. I want to try and somehow help that, or try to limit it at least. I don't think people understand that it doesn't just happen in third world countries and things, it happens right next to you. I've got a long time to work on it though.