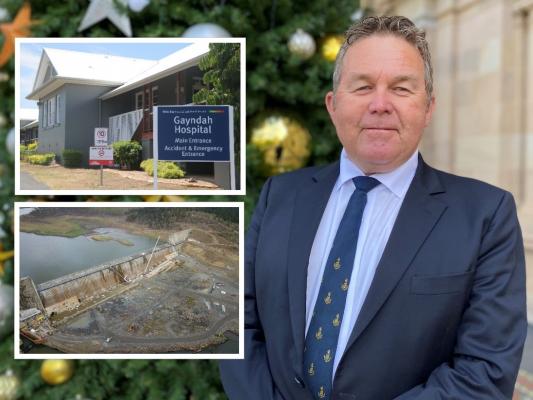 by Jessica McGrath
Colin Boyce has raised his concerns that the funding prioritised for the North Burnett in the 2020-21 Queensland Budget was 'tokenistic'.
The State member for Callide said money for the Gayndah Hospital and Eidsvold Multi-Purpose Health Service had not been prioritised.
"Gayndah Hospital really hasn't been prioritised, in actual fact only $58,773 is in this year's budget as a token amount – looks like it has been pushed back into later budgets for complete redesign and refurbishment," he said.
Queensland Treasurer Cameron Dick said creating more jobs in the Wide Bay was a huge focus for the 2020-2021 Queensland Budget.
"As we emerge from the toughest economic period of our lifetime, our government will work tirelessly to improve the lives of every Queenslander," he said.
"By creating skilled job opportunities in these regional centres, we will support more investment and boost economic prosperity for all Queenslanders."
Mr Boyce said the biggest single item of expenditure for his electorate was the $90 million spent on the destruction of Paradise Dam.
"This is a disgrace and the most reckless and irresponsible decision that I have seen the Labor Government make," he said.
He said the budget missed the mark for several North Burnett projects, especially when it came to water security and agriculture.
"Paradise Dam repair and reinstatement, Cooranga Weir, Coalstoun Lakes should all have been projects that are vital for the region," Mr Boyce said.
"Water security for our fruit and berry growers, irrigators and farmers should have been of the highest priority for the region."
The state government only needed to pledge $5 million for the Boyne River's John Peterson Bridge after the Federal Government had pledged $20 million, but the bulk of this funding has been pushed back to 2022.
Mr Dick said this budget contained no new or increased taxes, ensuring that Queensland continued to remain a low-tax state, paying an average of $628 less in tax this financial year than other Australians.
Here's a break down of the major North Burnett projects allocated funding in the 2020-21 state budget:
Paradise Dam essential works and improvement project (planning works)
$89.6 million in 2020-21 out of a $130.6 million total spend to provide essential works to lower spillway and continue planning work for enhancements to meet future extreme weather events and long-term water demand
Eidsvold Multi-Purpose Health Service
$122,687 in 2020-2021 out of a $2.2 million total spend for a complete redesign, refurbishment and remodel to improve patient flow, model of care, security, storage and service delivery.
Eidsvold State School
$600,000 in 2020-21 to refurbish amenities
Gayndah Hospital
$58,773 in 2020-21 out of a $4.7 million total spend for the complete redesign and refurbishment to improve patient flow, model of care, security, storage and service delivery.