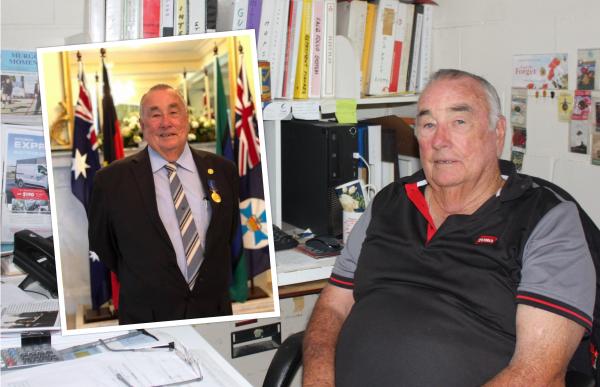 By Kate McCormack
This week the Burnett Today team had the pleasure of catching up with proud Murgon community member, business owner and family man, Leo Geraghty.
Mr Geraghty was awarded a Medal of the Order of Australia earlier this year for his service to the community of Murgon in a range of roles including President of the Murgon Business and Development Association, President of the PCYC South Burnett, member of the Rotary Club of Murgon, editor of Murgon Moments Newsletter and instigator of the Inaugural Murgon Rail Trail and Running Festival.
We had the pleasure of finding out more about Mr Geraghty this week including how he likes his coffee, his favourite part of the Burnett and what his most memorable moment to date has been. Check out his answers below:
What is one thing you think this community needs?
More small industry, the kind that employs 6-10 people in a whole range of industries and professions.
What would your friends/family say is your most annoying habit?
Not being able to say no.
What is your favourite spot in the Burnett?
All the little places that make up Murgon and make it such a special place to live such as the PCYC and Lion's Park. I really do love living in this town.
Are you a tea or coffee drinker? What's your standard order?
Coffee and I take it white with two sugars.
What's one thing on your bucket list?
Painting the bloody Murgon water tower. I will see it done before I die!
What is the best advice you have ever received and who did you get it from?
My colleague Laurie Williams, I worked with him for 50 years here at Clifton Motors from when I was just 15 years old and he became like a second father to me. He said treat the customers with respect, always.
What has been your most memorable moment?
My wedding day and the day we took our children home from the hospital.
What's one thing you've learnt from running a regional car dealership?
Over the years I've learnt running a successful business is not a 9-5 job. You've got to pout in the extra effort and hours and when it comes to customers, don't ever judge a book by it's cover!
What's one thing you love about your job?
What is something people don't know about you?
I don't want anyone to know! I told my life story in one of the last Murgon Moment's so I think that's more than enough information on me for now.
What are your goals for the New Year?
I am really looking forward to helping see the brand new Murgon art gallery and fossil museum come to life alongside my wife Glenda.