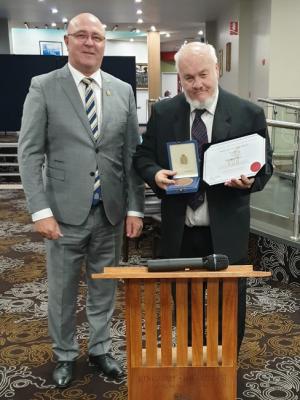 Anzac of the Year recipient Don Davey finally received his award after a long delay.
RSL Queensland State President Tony Ferris gave Mr Davey the award in front of representatives from the Wide Bay and Burnett District Sub Branches during a presentation on Saturday, 21 November.
Mr Davey, the current Kingaroy-Memerambi RSL Sub Branch president, was named in April alongside Michael Goodwin OAM of Mackay as the Queensland recipients of the 2020 RSL ANZAC of the Year awards.
However, the presentation of the award had been delayed due to Covid-19.
The former RSL Wide Bay-Burnett District president was recognised for his innovative leadership, compassion and devotion to the support of veterans and the wider Kingaroy community.
He is a driving force behind the Kingaroy-Memerambi Sub Branch Veteran's Drop-In Centre and has devoted himself to keeping the ANZAC spirit alive through commemorative events and community services and programs.
RSL Queensland State President Tony Ferris commended Mr Davey and Mr Goodwin on receiving a 2020 RSL ANZAC of the Year Award.
"Both are highly deserving of this honour which is testament to the influential and inspirational positions they occupy not just within their own communities but across the nation," Mr Ferris said.
"They exemplify the ANZAC spirit and are committed to applying its qualities of ingenuity, endurance, courage, mateship and good humour to everything they do."
Mr Ferris also paid tribute to the other award recipients: Geoffrey Tattersall of South Australia, Victoria's Karen Christensen and David Scott from Western Australia.