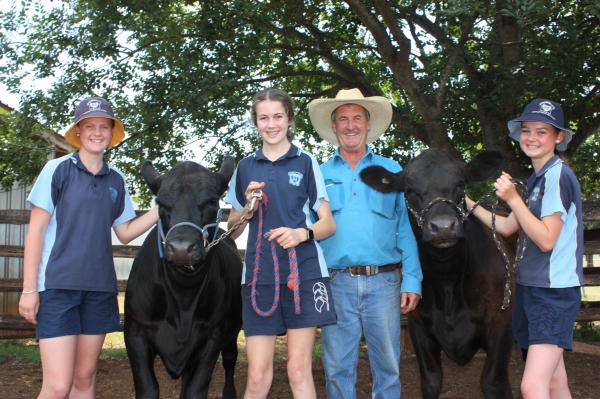 by Jessica McGrath
Kingaroy State High School's agricultural department are thrilled to secure $1.6 million in funding over three years to upgrade their agriculture and animal husbandry facilities.
This is one of many projects the South Burnett will see come to fruition thanks to funding pledged in the 2020-21 Queensland State Budget.
Queensland Treasurer Cameron Dick said creating more jobs in the Wide Bay was a huge focus for budget.
"As we emerge from the toughest economic period of our lifetime, our government will work tirelessly to improve the lives of every Queenslander," he said.
"By creating skilled job opportunities in these regional centres, we will support more investment and boost economic prosperity for all Queenslanders," he said.
Ms Frecklington said the long-awaited Queensland budget had missed the mark.
"There is so much opportunity right here, but it needs backing with better roads, better health services, water security and less red and green tape for our primary producers and small business," she said.
Crucial funding has been allocated for the final stage of the Kingaroy Hospital redevelopment project.
However, Nanango member Deb Frecklington last week queried how the money for the new hospital was being distributed and whether improved mental health services would be part of the redevelopment.
She was ejected from State Parliament for interjecting after her time had expired during question time.
Even though $948 million had been pledged for productivity-enhancing infrastructure and capital works, Ms Frecklington said it was disappointing that long-awaited safety improvements for major connecting roads and water infrastructure had been overlooked.
"Key roads like the Mundubbera-Durong Road, Kilkivan-Tansey Road and Maidenwell-Bunya Mountains Road have once again been overlooked," she said.
The Nanango member said water infrastructure like the Barlil Weir had also not been considered.
"Many of the projects listed in the Budget for the South Burnett have been previously announced by Labor, or have even been finished. They are not new projects," she said.
"I am pleased however that my lobbying on behalf of Tanduringie State School has been successful with a small amount of funding listed for planning works for a new bridge on Tanduringie Creek where a near tragedy occurred with the school bus a few months ago."
Ms Frecklington said she would be seeking further information about funding announced for the D'Aguilar Highway between Yarraman and Kingaroy as details on the scope of works had not been provided.
In 2020-21 there will be $38.15 million to expand and improve social housing throughout the Wide Bay region, incorporating Cherbourg.
Mr Dick said this budget contained no new or increased taxes, ensuring that Queensland continued to remain a low-tax state, paying an average of $628 less in tax this financial year than other Australians.
Here's a break down of the major South Burnett projects allocated funding in the state budget:
Cherbourg Town Water reservoir replacement
$675,000 in 2020-21 out of a $4 million total reservoir tanks for the Cherbourg Aboriginal Shire Council and replace and upgrade other critical water treatment infrastructure
Kingaroy Hospital
$23 million in 2020-21 out of a $92.5 million total spend for the redevelopment that will increase patient treatment spaces from 46 to 66, improving the hospital's role as a regional hub for various services
Kingaroy State High School
$1.6 million over three years to upgrade agriculture and animal husbandry facilities, including new exclusion
Murgon State High School
$10.1 million in 2020-21 out of a $10.9 million total spend to construct a new hall, a new administration building and a Youth Hub for the Cherbourg and Murgon area
Tarong Power Station replacements and refurbishment
$118.4 million in 2020-21 to replace and refurbish existing infrastructure at the Tarong power station and ensure the continued reliability of supply to Queensland and the National Electricity Market
Meandu Mine development and other works program
$41.6 million in 2020-21 to refurbish existing infrastructure and develop future mining areas
Bunya Mountains National Park -Koondaii circuit walking track upgrade
$125,000 in 2020-21 to upgrade visitor walking tracks in Bunya National Park. Part of the $8.9 million National Parks Works and Jobs Boost Program
Yarraman auxiliary fire and rescue station
$657,000 in 2020-21 out of a $1.5 million total spend to complete the replacement of the Yarraman station