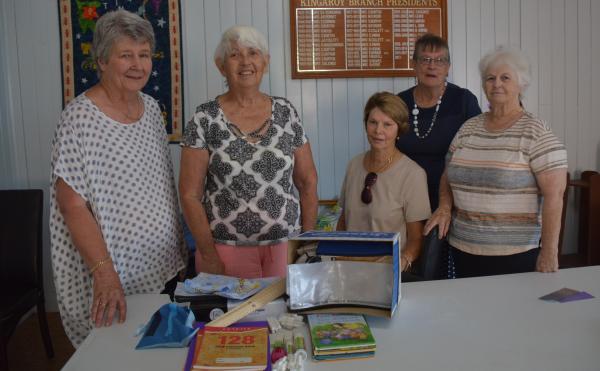 By Amy Buckingham
Some passionate Kingaroy women are donating school supplies to poor children overseas to help improve their education.
Queensland Country Women's Association members gathered at their Kingaroy hall on Tuesday, 5 January, to arrange Kits for Kids – a box of stationary including pencils, sharpeners, erasers, crayons, pens, books, scissors and rulers to be sent to school children in Papua New Guinea, Fiji and the Solomon Islands.
QCWA Kingaroy president Lois Thurecht said she was excited to see photos of kids with the supplies she organised because it would give her a sense of accomplishment.
"When you see children who just have a pair of knickers on and are sitting on the dirt without a chair it makes you realise how good it is to help," Lois said.
"We are a pretty lucky country in that a lot of children here are educated, and we have the opportunity to help teach others who aren't so lucky."
Once the packages are prepared, Lois said the Rotary Club would collect and send them overseas.
"We have to remove all packaging from products because there aren't any rubbish collectors over there," Lois said.
"It makes it difficult because we have to throw things like paperclips inside a large box because there is nowhere to put them."
Six-month QCWA Kingaroy member Wendy Tully said she joined the association for activities like these because they leave a positive impact on others.
"I enjoy doing these kits up because it is a way I can help other people," Wendy said.
Education is so important to QCWA that Lois said the association also offers a host of other activities centred on building knowledge, with healthy cooking lessons for young mums being just one of them.
"We offer 14 bursaries in Australia to assist young people with their studies," Lois said.
"People can apply to do things like midwifery or medicine at university, and we also send someone to TAFE to study textiles and design.
"In drought affected areas people can apply to send their kids to boarding schools which helps if they live far away."
To support this initiative, you can donate stationary items to your local QCWA branch which will organise delivery.
If you want to have fun while lending a helping hand, QCWA Kingaroy is welcoming new members to its meetings held at 122 Kingaroy Street, Kingaroy, at 10am on the second Friday of every month, and at 6pm on the third Wednesday of every month.