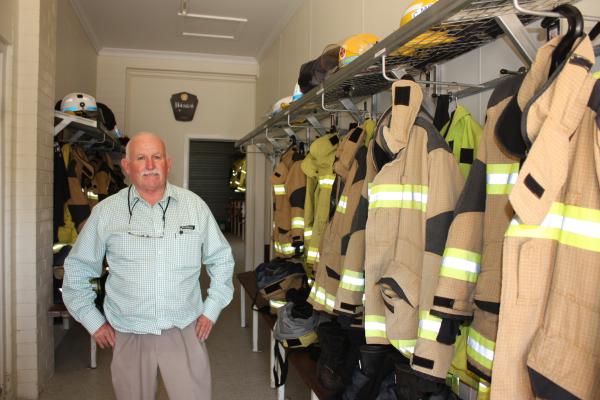 by Kate McCormack
After 41 years as an auxiliary firefighter Wayne 'Cookie' Jeffrey is a fairly well known chap about Wondai –that is until you shave his moustache and eyebrows off!
Burnett Today had the pleasure of catching up with Cookie following another highly successful postie bike run to raise funds for men's health.
We spoke about what made him decide to brave the shave late last year and why he's so passionate about men's mental health, his community and the local fire and emergency services.
Thanks for catching up with us Cookie! Can you tell us a bit about last year's postie bike run?
Last year was our second year organising the postie bike run and we had ten firies from Wondai, Kingaroy, Walkerston and Tannum Sands coming together to ride old CT110 postie bikes over 1000 kilometres across the South Burnett and Western Downs over four days to raise money for the Movember foundation. In our first year in 2019 we raised almost $9000 and in 2020 we managed to raise $11,578 which all goes towards funding men's mental and physical health projects. Across the four days we only managed to have one flat tyre so we counted that as a win. The community was great at getting behind us again and Riverina, where I also work as branch manager, sponsored the support vehicle so it was really great to have so many people on board, cheering us on.
And what led to you parting with your iconic moustache?
Well I thought it would be a good opportunity to raise some extra funds for the cause. I've had my mo for 44 years and the only other time I've shaved it off was back in 1998 so I thought it was time for another haircut. It was pretty shocking to see myself in the mirror at first, especially because they also shaved my eyebrows off. People had to give me a couple of looks down the street to check if it really was me! I think it's a bit of fun too. Movember is very near and dear to the Queensland Fire and Emergency services because the majority of firefighters are blokes and we are responders to some pretty horrific things in our job so it's important to support a charity that does so much for men's health. QFES donated over $51,500 to Movember last year alone. I think it's important to support events and activities that support mateship and encourage men to talk to one another when you're going through something tough. There's no need to suffer in silence.
What would your message be to your younger self, regarding mental wellbeing as a younger man?
I think it would simply be to open up more and don't bottle things up and keep everything to yourself. There is always someone who is ready to listen and help you work through whatever problems you're facing. 2020 was a tough year for me but the fire service was a huge support to me and has been a life raft at different times in my life. I'd encourage all young men out there to join some sort of community group or organisation to have a support network around you for when life throws you curveballs so to speak. It's really made a difference in my life.
What's on the cards for this year's postie bike run and the rest of 2021?
This year we're hoping to have a lot more riders involved, our aim is to have 15-21 firies getting on the bikes and raising even more funds for Movember. The Wondai brigade is also planning on holding several fire education days at a number of the small schools in the region so keep an eye out for more information on that over the next few months.
If you or someone you know needs to talk to someone contact MensLine Australia on 1300 78 99 78 or BeyondBlue on 1300 22 46 36.