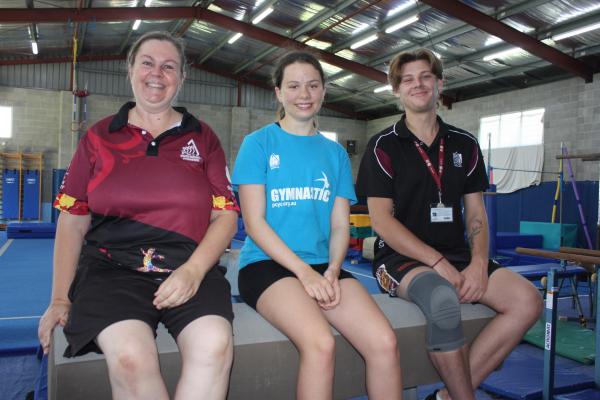 By Kate McCormack
It's not too late to make the most of all the exciting school holiday activities on offer down at the South Burnett PCYC in Murgon.
PCYC member service team leader Karen Sanewski said they've received great turnouts and feedback throughout their summer holiday program, with several of their day trips booking out completely.
"The trips to the Zillmere PCYC for gel blasting and the Dalby PCYC for laser tag were extremely popular and will definitely be something we look at planning for future school holidays," she said.
"Our Hervey Bay beach trip was popular too and there are still a couple of spots left on our final Bunya Mountain bush walking trip but you've got to ring in and book your spot.
"All of our activities are free and most are welcome to all ages so if you're sitting around the house looking for something to do over the next week and half come down to the PCYC and join in the fun."
On Tuesday, 19 January the PCYC is hosting a basketball workshop led by former NBL Townsville crocodiles captain and current Basketball Queensland Indigenous Pathways Manager, Michael Cedar.
The PCYC also have some big plans in the works when it comes to their gymnastics program with head coach Pam Jones excited to announce the possibility of additional adults classes.
"We are hoping to extend to offer training for women over 16 an adults only class this year," she said.
"The PCYC is also hoping to have several of our students compete in a number of local and regional competitions this year if Covid restrictions permit so we should be in for a great year of gymnastics.
"We offer all new students one free class to begin with to see if the PCYC is for them so there's nothing to lose, contact us about organising your trial class today."
If you're looking for a new way to stay fit and make new friends, call the PCYC today about signing up for the Bunya Mountains walking trip, a membership or your free trial class by phoning them on 4168 1889.
PCYC summer school holiday guide:
Friday, 15 January:
Drop in games from 10am to 12pm. Drop in and play sports and games with the PCYC staff members.
Murgon pool day from 2pmto 4pm. Come on down to the Murgon Pool for a swim and some fun.
Monday, 18 January:
Sports at the Cherbourg complex from 10am to 12pm.
Murgon pool day from 2pmto 4pm.
Tuesday, 19 January:
Sports at the Cherbourg complex from 10am to 12pm.
Slip and slide day from 2pm to 4pm. Come and cool off with some slip and slide fun at the Murgon PCYC.
Wednesday, 20 January:
Gymnastics Free G from 10am to 12pm. Free gymnastics, open to all ages, drop in and have a fun time in the PCYC gymnastics hall and learn some cool new parkour inspired skills.
Sports at the Cherbourg complex from 1pm to 4pm.
Thursday, 21 January:
Bunya Mountains bush walking trip. Come and join in on a trip to the Bunya Mountains. Limited seats available so bookings are essential.
Friday, 22 January:
Tiny tots play morning from 9am to 10am. Come down to the PCYC for tiny tots morning, fun for kids aged from 1-5 years old.
Volleyball from 10am to 12pm. Join in on a fun morning of volleyball games and activities, fun for all ages.
Sports at the Cherbourg complex from 1pm to 4pm.