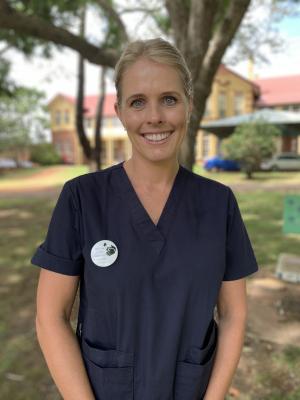 By Amy Buckingham
Graduate nurse Kylie Woolnough is excited to be completing her graduate program in her hometown, Kingaroy.
"Working at Kingaroy Hospital is my way of helping and giving back to the community I've always been actively involved in," she said.
"Nursing is such a rewarding career, and I'm excited about helping others and expanding my skill set."
Ms Woolnough will be one of four graduate nurses starting at Kingaroy Hospital this month.
All together, 88 graduate nurses are beginning their healthcare journey with Darling Downs Health this month which starts with four days of orientation.
Nursing and midwifery services executive director Andrea Nagle welcomed the 2021 cohort, and said the graduate program was a great opportunity for the participants to familiarise themselves with our values and vision, as well as learn more about their colleagues and new careers.
"We are so pleased to welcome the graduate nurses to our health service, and we look forward to supporting them in their transition to registered nursing positions," she said.
Ms Nagle said the graduate program is for one year within the health service, and it is an opportunity for the nurses to put everything they have learnt at university into practice.
"We wish our graduate nurses all the very best for the future and look forward to seeing what they achieve in their careers," she said.