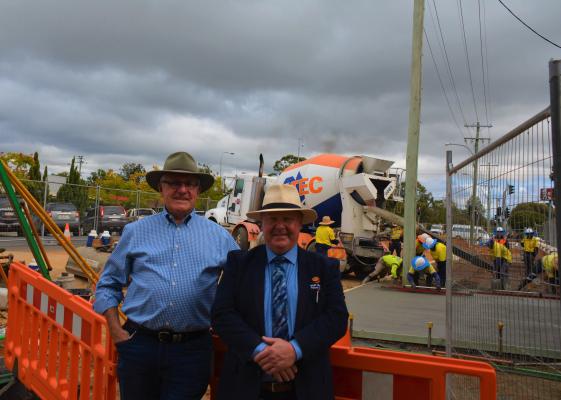 By Amy Buckingham
Sealing upgraded water and waste networks, the first major slab of concrete for the Kingaroy Transformation Project was poured to construct improved footpaths.
On Friday, 30 April, South Burnett councillors watched as P&J Armstrong Concreting Nanango and Hy-Tec Concrete Kingaroy started works on the Alford Street walkways.
South Burnett Regional Council reported KTP aimed to address existing issues including pavement deterioration, uneven footpaths, high kerb profiles and steep slopes.
SBRC roads and drainage portfolio holder Cr Gavin Jones said the improved footpaths would make Kingaroy CBD more accessible for all residents.
"I was really happy to see the first piece of concrete go down because it was set to make the footpaths more compliant and user friendly, especially for those people living with a disability," he said.
KTP ambassador Keith Campbell said the concrete pour was an excellent step ahead in the project.
"A large proportion of the work has been underground with electrical wiring, sewerage and water services, so it was good to see the works coming above ground," he said.
While this renewal work is set to improve mobility and accessibility for people, a number of businesses on Alford Street have been impacted with work areas being established in front of their shop entrances.
One such business has been Tomo's Diner, and owner Linda Thomson said despite limited access to her shop, her team was making the most out of the situation.
"It has been inconvenient the works have been right outside our front door, but we have had a good laugh with the crew who has bought meals and supported us," she said.
"They put a ramp in for our elderly customers so people with wheelchairs and walkers could get in and out of our diner."
In response to disruptions to Alford Street businesses, Mayor Brett Otto said SBRC would try its best to mitigate the negative impact on trading.
"As we move through this phase we will do everything we can to provide pedestrian access and consult with business owners," he said.
SBRC reported approximately 11,000m2 of concrete will form the footpaths of Kingaroy's CBD, with KTP due for completion by July 2022.