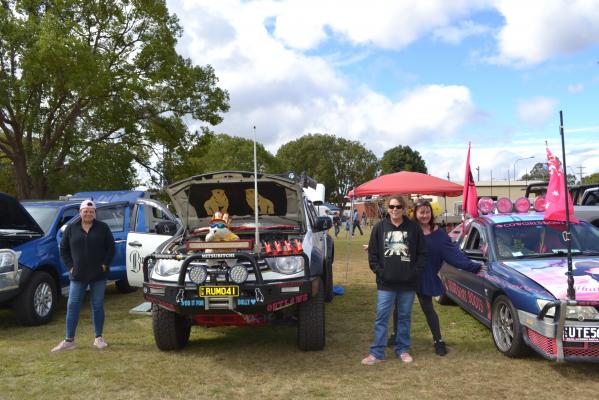 by Jessica McGrath
It was a buzz of excitement straight after the Kingaroy Show official opening as the Utes did their lap of the main arena as part of the parade.
Flags were flying, all types of Utes were on display and even a skeleton was waving out of one of the windows on Saturday, 1 May.
Kingaroy Show Rural Ambassador Rosh-Hannah De Caluwe assisted the judges with presenting awards for the South Burnett Sub-chamber Show.
These winners are eligible to represent the South Burnett in their class at the State Finals at the 'Ekka', Royal Queensland Show in Brisbane.
The Sub-chamber winners were:
Best Street Ute: Matthew
Best B&S Ute: : Anthony
Best Chicks Ute: Hayley
Best 4×4 Ute: : Sean
Best Work Ute: Asher
Best Feral Ute: Anthony
Best Classic Ute: Sonnie
The Kingaroy Show Ute Muster winners were announced just before the show's main parade, with prizes awarded by Kingaroy's Miss Showgirl, Kyla Milne.
Annie Hicks entered her Ute at a show for the first time alongside friends Tammy Smith and Hayley Wilson.
She even managed a runners-up place in the Best Town and Country Ute category, while her friends took away a selection of placings themselves.
The Muster's Best Overall Ute Champion was won by Hayley Wilson and the Best Overall Runner-up Ute was owned by Tammy Smith.
The 2021 Kingaroy Show Ute Muster winners were:
Best Overall Ute Champion: Hayley
Best Overall Runner-up Ute: Tammy
Best B&S Ute:
1st Anthony
2nd Nazrin
Best Street Ute:
1st -Sonie
2nd -Matthew
3rd -James
Best Classic Ute:
1st Sonie
Best Chicks Ute:
1st Nazrin
2nd Tammy
3rd Hayley
Best 4×4 Ute:
1st Nazrin
2nd Tammy
3rd Sean
Best Work Ute:
1st Asher
2nd Valda
Best Feral Ute:
1st Anthony
Best Ford Ute:
1st Matthew
2nd Anthony
Best Holden Ute:
1st Sonie
2nd Hayley
3rd James
Best 'Other-Make' Ute:
1st Nazrin
2nd Sean
3rd Tammy
Best Bull Bar:
1st Sean
2nd Anthony
3rd Asher
Best Farm Ute:
1st Sean
2nd James
3rd Matthew
Best Town and Country Ute:
1st Vazrin
2nd Annie
3rd Tammy