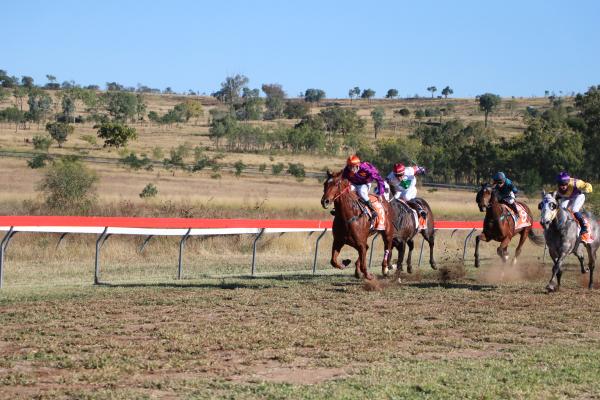 by Julian Lehnert
Gayndah welcomed horse racing enthusiasts, jockeys and trainers from all over Queensland to its racecourse last Saturday as the town hosted its first race day of the year on Saturday, 5 June.
The all-day event consisted of five races offering close to $50,000 in prize money for the state's best of the best, including the town's second-ever hosting of a major tournament qualifying heat.
Rockhampton's Manila Miss, jockeyed by veteran rider Chris McIver, qualified for this year's Battle of the Bush series, winning owner Andrew Symons not only $6,500 in prize money, but a shot at another $200,000 at the series decider in Brisbane on 20 June.
Symons and his team qualified for the series two weeks prior to racing in Gayndah, coming third at an event in Home Hill; earning a first place position in the North Burnett has thus cemented a spot for Manila Miss in Brisbane.
"The big grounds here at Gayndah were certainly suited for us," Mr Symons said.
"She's a mare in good form, she's won seven races since we've had her and it's really good to see her get out there and have another win," he added.
McIver was not the only rider to win big at Gayndah over the weekend, however; Jockey Rhiannon Payne earned two wins at Gayndah, coming first in race two for the Maiden Plate on All Gain followed by peak performance on gelding Laurie in race four.
With its citrus-themed Fashions on the Field sections, Gayndah's racegoers continued to dazzle even away from the course's track, showing off the town's best millinery, racewear and style across nearly half a dozen sections.
Gayndah's racecourse will once again open its doors to eager fans of the sport on 9 October, with Eidsvold hosting its race day a week prior.