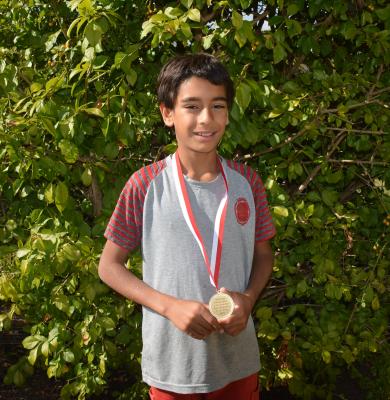 By Amy Buckingham
With his competitor tailing him for majority of the three-kilometre race, 10-year-old Joshua Williams sprinted up some final steep hills and launched himself into a comfortable win.
After claiming first place in the Wide Bay Cross Country Championships with a time of about 12 minutes and 30 seconds, the speedy Murgon runner has earnt a spot at the start line of the Queensland Cross Country Championships in Ipswich from 17 to 19 July.
Joshua said he used the steep hills at the Gayndah Golf Course to his advantage.
"I had some good competition for most of the race," he said.
"Taking off fast and bursting up the hills was my strategy."
In the lead up to the state championships, Joshua said he was going to focus on his endurance and mental toughness.
"I have been doing interval running and hill sprints," he said.
"Telling myself never to give up helps too."
Joshua competed at the Wide Bay Cross Country Championships after qualifying at the South Burnett trials in Wondai on Friday, 21 May.
"I hurt my calf muscle just before the trials and I only returned to running two days before them," he said.
Joshua's mum, Lorna Williams said she was proud of her son's efforts.
"He is beauty in motion," she said.
"We try to foster his natural athleticism in his training."
Due to Covid-19, all School Sport Australia Championships have been cancelled this year, so the Queensland Cross Country Championships is the last cross country race Joshua has to conquer.