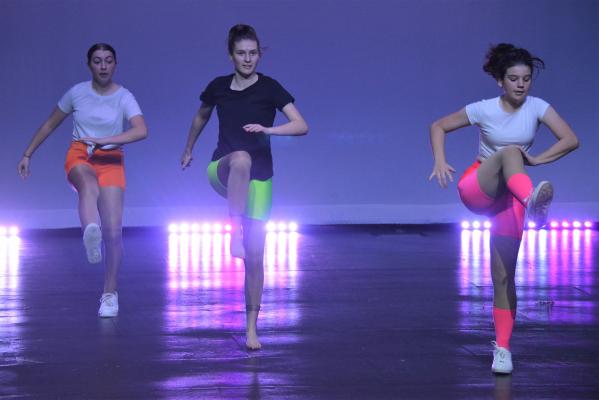 by Jessica McGrath
Dance studios and groups from high schools joined forces for the inaugural South Burnett Dance Festival.
Sue Dowideit-Reiger, Kingaroy State High School dance teacher and festival coordinator, is hoping the concert held on Saturday, 5 June might become a regular event.
"I liked the idea of the fact that it was non-competitive so it just means that all of the kids can come together and see that we all work together," she said.
"It shows the students that in the dance world we all work collegiately."
La Crème Dance Academy, Western Stars Cali Dance Studio, Ally Walker Dance Academy, Kingaroy State High School and Saint Mary's Catholic College collectively had more than 120 dancers at the festival.
Usually these dancers would all see each other at the Kingaroy Dance Eisteddfod each year, but the eisteddfod committee opted to cancel the group competitions to abide by covid-19 requirements.
The festival focussed on group performances only rather than solo dances, creating a different atmosphere to a regular studio concert.
Kingaroy State High School dance student Matilda Garcie said it was exciting to perform at the festival.
"It is nice that its not competitive," she said.
"It excites you to perform in front of the crowd."
LCDA student Talleah Smith, who has been dancing since she was three-years-old, performed in some hip hop and jazz numbers on the night.
"Dance is an opportunity to express yourself," she said.
Ms Dowideit-Reiger said the festival may play an important part in inspiring younger dancers in the future.
"The great thing about this is we have a mix of abilities and standards and experience levels, and I think the fantastic thing about this is that the students can see where they can reach to and they can see that dance is accessible for even a beginner," she said.
Jessica Welch took her Saint Mary's Catholic College dance students along with dancers from Years 7 to 12.
"It was great to have an opportunity to share Saint Mary's Dance with the community since we missed out on the eisteddfod," she said.
Mrs Welch also brought along her own studio group -Western Stars Cali Dance Studio which featured younger dancers, six to ten-year-olds.
These dancers had recently been practicing a new, unique Australian dance sport called calisthenics, which focusses on grace and poise.
"It's their first time on stage for the majority of them," Mrs Welch said.
Ms Dowideit-Reiger said they may look into incorporating workshops into future festival days.