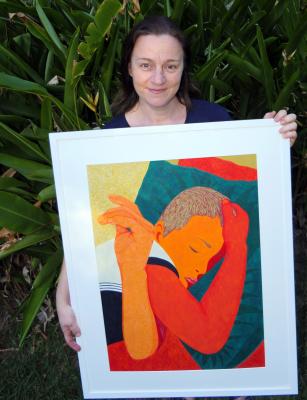 By Amy Buckingham
Too many people in the South Burnett misunderstand what it's like to live with autism.
That's why Queensland's longest-running autism support group is hoping a thought-provoking art exhibition in Wondai will improve the lives of people with the condition through awareness.
Born prematurely and diagnosed with autism and ADHD, Alby has experienced many wins and setbacks as a young child, and his mother Emma Thorp portrays these alongside her own journey as a special needs parent through her travelling mixed media works 'Early'.
Shown at Wondai Regional Art Gallery this month, Emma's exhibition was created to prompt conversations about supporting carers and people with special needs, and the 46-year-old Hervey Bay artist said this was especially important in regional areas.
"People have been able to open up about their own experiences with premature births and raising kids with special needs," she said.
"Having moved to Childers after my son was born, I understand how hard it is to get support in regional areas, and how isolating it can be because you feel so preoccupied protecting a baby that is so little and fragile."
Nine members of the South Burnett Autism Support Group attended the opening of the exhibition, and the group's co-founder Jenny Lutz said the artworks were great tools for awareness.
"You can't tell if someone has autism by just looking at them, so people often hold the misconception that someone is being naughty, when really they're just acting a certain way because of their condition," she said.
"I hope these paintings opened the public's eyes about what it's like having autism, and I hope our community has developed a bit more empathy.
"Our group could feel the emotion in each piece because we have shared similar experiences."
Following the exhibition's opening, Wondai Regional Art Gallery president Elaine Madill said the art was well-received with patrons.
"It was so incredible seeing people view the art and then share their stories, especially for a part of our society that doesn't get much of a voice," she said.
ART REVEALS INSIDE LOOK AT AN OTHERWISE 'INSULAR' WORLD
Emma Thorp often harbours guilt when her all-consuming role as a special needs mother clashes with her identity as a wife.
In addition to her competing titles, Emma has depicted guilt in other situations throughout her exhibition, calling tubing and surgical greens a 'surrogate', feeling helpless to nurses, and questioning whether her child's conditions could've been prevented.
"I already had a full-term child who was this healthy, thriving kid from the start, so when I was pregnant with Alby I thought I would have the same experience," she said.
"You feel like you have failed as a mother because machines are looking after your baby instead of you.
"You grieve the normal experience of going home with your baby and your friends cooing how cute they are."
Emma said some of this self-condemnation still lingers today.
"I think I still have a bit of this guilt, and I worry for my child's future because it's undetermined," she said.
"It's hard letting them out into the world because you're always thinking about whether their support system is strong enough.
"In this process you lose yourself because your entire focus in on your child, and this has made for some really stressful times in my marriage."
Despite some struggles as a special needs mother, Emma said the experience has made her an empowered advocate for not only her family, but also herself.
"Before I had Alby I was a much more obliging and compliant person, but raising my son has brought a more determined and independent personality out of me," she said.
"I appreciate the time I get to myself, but I am also grateful motherhood has changed me immeasurably."
Colour runs and school camps are a couple of the big wins Alby has achieved as a primary school student, and Emma said it was these hopeful depictions she loved the most about her exhibition.
"There have been some really big moments when Alby has been able to overcome his anxiety and function on his own when given clear instructions," she said.
"Parents of children with special needs already know about struggles because they deal with them everyday, so it was important for me to show parents that things get better."
The art exhibition portrays Alby's life up until he turned eight. He is now ten years old, and Emma said Alby has reached more milestones in the past two years.
"We are doing great. Alby has just returned from his second school camp where he didn't need me at all, and he has also learnt to ride a bike," she said.
"We are continuing to foster his independence. Of course, things will always come up, but supporting him alongside his school and therapist really helps."
'Early' is showing at the Wondai Regional Art Gallery until the end of the month. You can also view it digitally here: emmathorpart.com
For preterm support contact PIPA: 1300 773 672; or Life's Little Treasures: 1300 697 736. For carer support contact Carers Queensland: 4197 2800.