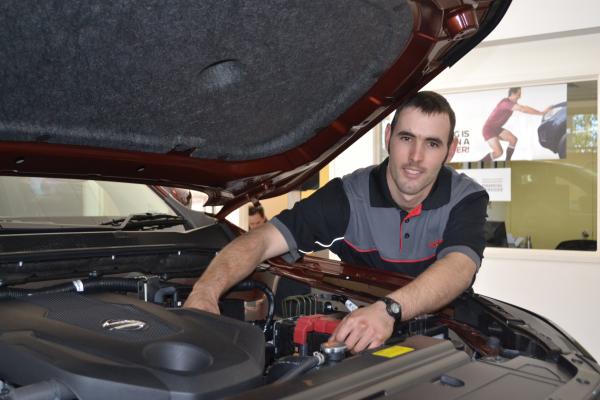 By Neesha Sinnya
Daniel Ruthenberg is Kingaroy's Huston Motors latest apprentice and has been described as having a 'strong work ethic,' despite the challenges he faces living with a disability.
The 25-year-old apprentice has moderate to severe profound hearing loss and has always shown interest in cars and motors.
He is currently completing a Certificate two in an automotive course and is able to apply his skills into practice through his apprenticeship.
The Nissan Mentored Apprenticeship Program, through the WPC Group, aims on providing participants with 'real skills and world-class training'.
For Daniel, training under the program is ideal with his car of choice being the Nissan Navara – which he drives.
Before working as a motoring apprentice, Daniel worked as a car detailer at Hustons.
The apprentices undergo manufacturing training in Brisbane from a Nissan-specific training and when he finishes he will graduate as a Nissan technician.
Mark Huston regarded the Nissan apprenticeship standard of training as 'one of the best'.
There are a number of key players that have played an integral role in Daniel's apprenticeship.
Emily Dunne is the apprentice mentor and works with TAFE Queensland to ensure that the apprentices are thriving in their workplace placement.
To cater to Daniel's disability, Huston Motors is committed to making necessary workplace adjustments.
"We didn't want to set Daniel up for failure, we made sure everything was in place and that he had the skills and ability to do his apprenticeship successfully," Mark said.
Margaret Huston said she has seen Daniel's confidence increase since starting at Huston Motors.
"We get feedback from Daniel if there is something that isn't quite working and his ability to liaise with people has improved, you can see it.
"He has shown great enthusiasm and there is a brightness on his face when talking about motors," Margaret said.