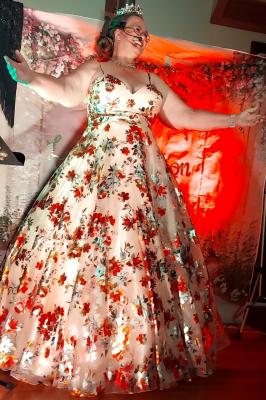 By Amy Buckingham
From her sparkly tiara to her pitch-perfect notes, Goomeri singer Louise Winton wowed audiences in her performances at Anywhere Festival 2021 last month.
Now that the festival is over, Louise is entertaining at restaurants, weddings and other functions across the Burnett while preparing to go on tour.
While Louise is in the region, Burnett Today asked the self-proclaimed diva about her music from singing in the shower to performing at Queen Elizabeth's 90th Birthday celebrations.
See her answers below.
1. Who is your musical inspiration?
Once upon a time, I would have answered this question with my mum. Although she couldn't sing, she did play piano and had a diverse appreciation of music. She shared so many musical and theatrical experiences with me and encouraged me to shine from a very early age. However, now I have years of my own experience, both in performing and life, I have a new answer: me. When I write songs, I turn life stories and experiences into music. I've been through love, lust, death, violence, hurt, joy and more, and these all add to my emotional toolbox.
2. Where is the best place you have performed?
Very early in my career, I won the opportunity to sing the National Anthem at a major sporting event at Lang Park (before it was Suncorp Stadium). I guess the performance that comes to mind when answering this question is Queen Elizabeth's 90th Birthday Celebration. I was the invited soloist for this very secret event that was held in the Queensland Club and hosted, in her honour, by The Governor General. The event that I am the proudest of was the Armistice Day Centenary. I had the amazing role of Musical Director.
3. What music do you like?
I find myself getting lost in music that has a real melody and lyrics. If I can close my eyes and picture the story that is coming from the music, then I'm in my happy place.
4. Is there a story behind your tiara?
I have two sayings: 'don't let anyone take your sparkle', and 'it don't mean a thing if you don't wear your bling.' There is no right or wrong place to wear bling, so wear it with pride. As for my tiara, it brings me joy. I embrace the past challenges of domestic violence, death and hurt that could have left me tarnished, but instead I chose to sparkle. I remember my inner child, who fantasized about being a princess, my own children who I consider as my prince and princess, and my husband who calls me his Queen.
5. What is your biggest pet peeve?
Unpaid music. After all, groceries and petrol cannot be purchased with 'exposure.'
6. Where is your favourite place to eat in the South Burnett?
In Murgon, our go to is Murgon RSL or Cafe 4605. In Kingaroy, we like Jamaica Blue and Busy Bee Cafe, and in Nanango, we love Red Fish and Chips and the RSL.
7. What is your most memorable encounter with a supporter?
I've been told my voice changes lives. One occasion stands out. I had just done an aged care concert. During the concert, I noticed a very old and frail man who sat with his head down for the whole time. He mouthed the words to all of the songs. When the nurses came to take him back to his room at the end of the concert he fought them away and walked without assistance to come to me. He looked me in the eye and said 'for the whole time you sang, I had no pain.' The nurses were gobsmacked. Their mouths opened in shock and they didn't know what to say. After the man was guided to his room, one of the nurses said to me 'he is completely nonverbal,' to which I replied, 'he just had nothing to say.'
8. Do you sing in the shower?
Actually, no. I should though because the acoustics are great and the steam is great for the vocal chords.
9. What accents can you do?
Cockney and other English accents, American gangster, Jewish and more. In general, when you sing, there should be no audible accent, although I do really push an English accent for certain songs. I do sing in many different languages though: Italian, Spanish, Maori, Latin and a little German.
10. Have you ever dealt with stage fright?
I have never had stage fright. Even though I have developed anxiety, it has never affected my performance. Instead, I have an internal conversation with myself: 'You are doing what you have been put on Earth to do. You are sharing your incredible gift and you are about to change someone's life. You have the right shine. You are a diva. Sparkle.'