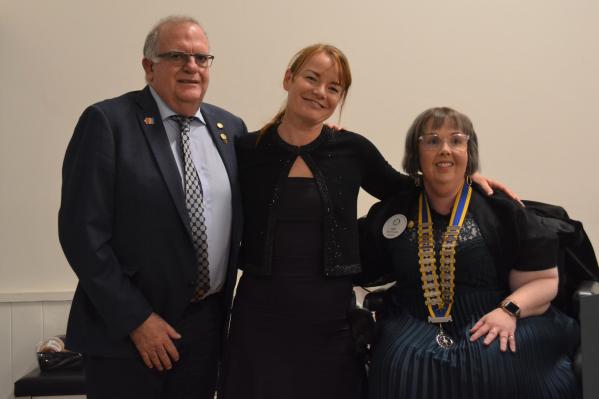 by Jessica McGrath
A $40,000 donation for the ALIVE youth suicide prevention program in the South Burnett will make a big impact in young people's lives.
Kingaroy Rotary Club were proud to present the cheque of $10,000 and $30,000 to ALIVE founding CEO Tamsyn Rosenberg at their annual dinner on Saturday 17 July.
This comes after the Rotary 9600 conference at Kingaroy during March which had a huge focus on youth suicide prevention.
Conference speaker William McInnes even sent his regards to the Rotary Club during their annual awards night.
"A huge thanks to the entire rotary conference," Ms Rosenberg said.
"It was such a heart warming experience to be welcomed with open arms, we have been blown away with their generosity."
This was just one of many community groups to receive support through the fundraising efforts of the Rotary Club.
The Kingaroy QCWA received $1000 for their domestic violence kits and CTC received $2000 for their 'packs for the homeless'.
Kat Butcher is the Kingaroy Rotary President for the last financial year and the new 2021/22 year.
"We're about working in the community," she said.
"Last year's focus was predominantly in youth suicide prevention.
"The conference was a huge part of the year, and getting in there and supporting the youth in the community is something I'm passionate about."
The Paul Harris Fellow Award is the highest honour a club can bestow on a person either inside or outside the club, acknowledging a 'service above self' which that individual has offered to their community.
Recipients awarded at the dinner included rotary supporter Cath Roberts, Kingaroy QCWA President Lois Thurecht, Kingaroy Senior Sergeant Dave Tierney and Rotary President Kat Butcher.
The club also presented one of their youngest active citizens, Kingaroy State High School Flynn Woodall, with a certificate of appreciation.
The biggest awards of the night was the honorary membership, which is the highest distinction that a rotary club can bestow and should only be awarded in exceptional cases.
Dr Gerry Meijer was given the honour for his service to the club as secretary, treasurer, two assistant governor roles and district governor. He was also recognised for his work in the community including active service with the SES, St John's Ambulance Queensland, leading eight FAIM overseas trips and serving in the army reserves.
Tim Keeler was the second honorary membership recipient.
The rotarian is the District Governor Elect for the new district 9620. He has a long history with the rotary club and was the District 9600 Conference Chair, being a driving force behind pulling the memorable conference together.
The Rotary Club of Kingaroy's 2021/22 committee includes:
President: Katharine Butcher
Vice President/ President Elect: Kerry Heit
Treasurer: Mark Huston
Secretary: Bev Watter
Directors for:
Youth Service : Deb Hails
Rotary Foundation and International Service: Murray Johnston/ Vince Evans
Club Administration and Membership: Ray Pitt/ Neil Black
Community Project and Service: Kerry Heit
Vocational: David Black
See the full gallery from the celebratory Rotary dinner here: bit.ly/36PGOOv