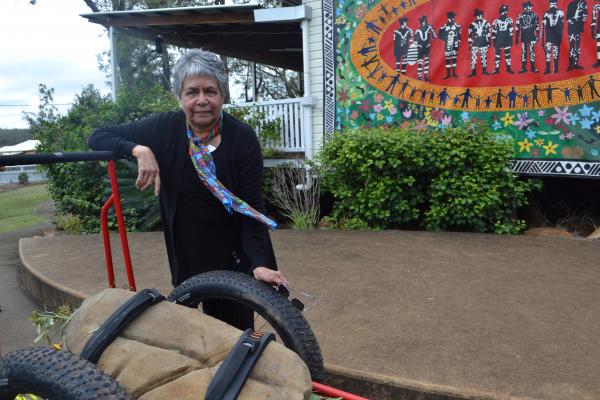 By Neesha Sinnya
Aunty Lesley Williams believes the walking return of the Star of Taroom is an inspiring example of 2021 NAIDOC Week's theme of 'Heal Country'.
To welcome organiser Johnny Danalis and the Star to Cherbourg, Aunty Lesley organised a community gathering at the Ration Shed Museum.
The 74-year-old Murri Elder has strong connections to the Country and community of both Taroom and Cherbourg.
She was trained as a domestic servant in Cherbourg before being sent to work at a property in Taroom in the 1960s.
"When I heard about the walk I was blown away. I honestly think it was the old people sending messages [to Johnny] this was meant to happen," she said.
The Murri Elder has a rich history of activism, most notably known for instigating the domestic and international Justice for Aboriginal Workers campaign of the return of the stolen wages.
"$55.4 million was given back to all Indigenous workers who had their wages and savings controlled by the Government," she said.
She hopes Johnny's journey can inspire others to channel their anger into change.
"This could set the example for thousands of other objects in people's homes to return them to Country," she said.
As Johnny Danalis passed through Cherbourg on his way to Taroom, he was astounded by the response from the community.
"It's one thing to be encouraged by everyday Australians, but when a whole Indigenous community values what you are doing you know you are on the right path," he said.
"It's a non-political walk, it's a 500 kilometre conversation of people walking and sharing views."
With an aim to slow down and listen to First Nations people, Johnny and his crew walked in silence from Wooroolin to Wondai.
"When you learn to listen you'll get all of the answers you need," he said.
Johnny and the Star are scheduled to reach Taroom on 24 July.
"It's more than the stone coming home, it's a massive return to Country for the Iman people including many for the first time," he said.
"The stone is 160 kilograms but the responsibility of returning it to Country is so much heavier, it's a good weight we can handle."