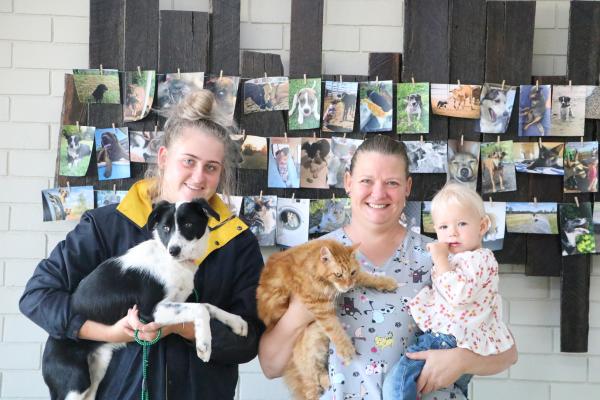 by Julian Lehnert
In her 12 years of work as a veterinarian in Mundubbera, Dr Anja Schmidt has seen it all. From rescuing livestock stuck in fences to caring for sick goldfish, her business Animals Veterinary Services on Lyons Street has been a safe haven for pets and wildlife big and small.
The vet practice is run by Dr Schmidt and her assistant Natalie Kassulke, providing the town and region with around-the-clock emergency care and a wide range of other services.
"We do basically everything here, caring for big animals like horses and cattle as well as smaller animals like cats and dogs and wildlife," Dr Schmidt said.
Animals Veterinary Services also offers grooming and boarding services as well as special foods, treats and enrichment, ensuring that pets are cared for in all aspects of their life.
To accomplish this, Dr Schmidt accepts inpatients at her clinic but also travels out to properties to look after larger animals, an area where her previous expertise comes in handy.
After suffering a series of traumatic injuries in her first job as a ringer straight out of school, Dr Schmidt started her journey to becoming a vet, which eventually led her from the Far North Queensland town of Cloncurry to Mundubbera.
"I'm really glad that I've got the background that I have, because it makes this job here so much easier on both me and my clients. It was a natural progression," she said.
Dr Schmidt and Ms Kassulke also care for injured wildlife, having hand-raised echidnas, flying-foxes and even eagles, with native patients such as kangaroos, bandicoots and koalas being a common occurrence.
"One of the benefits of being a rural practice is that we get to see so many different animals. I've got friends that work in small animal practices in the city that just refer anything out of the ordinary to a specialist instead," Dr Schmidt said.
"We're very lucky in that our clients trust us to perform all of the necessary surgeries and procedures ourselves."
North Burnett locals in search of a new furry companion are welcome to stop by, as pets looking for their "forever home" are frequently available.
"Since I've had the clinic we've rescued, fostered and rehomed over 170 cats and around 60 dogs," Dr Schmidt said.
"A lot of them have required significant medical treatment or surgery, but I've always kept the rehoming fee as just the price of desexing," she added.
Outside of work, Dr Schmidt is well on her way to becoming a Mundubbera mainstay, having supported the community since her arrival by sponsoring local shows, events and community groups.
"We live in Mundubbera, shop in Mundubbera and do all our business in Mundubbera, that means we're available for our clients whenever they need us without any long travel times involved," she said.
Animals Veterinary Services on Lyons Street, Mundubbera is open Monday-Friday from 8:30am-5:00pm, with after hours emergency care available on request by calling 4165 4999.