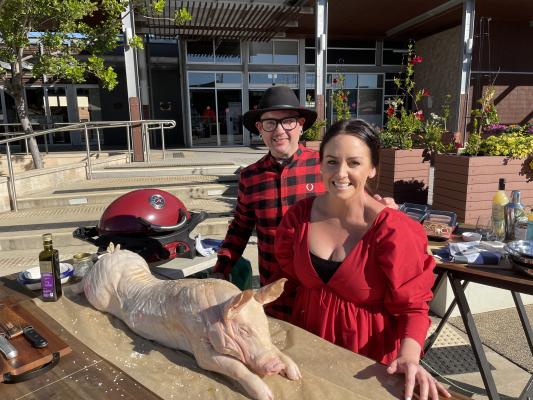 Dan and Steph Mulheron won the 2013 series of My Kitchen Rules, but once you hear their story and the inspiration behind winning, you realise it was no fluke.
The hosts of the new television series, 'Travel and Eat with Dan and Steph' share with Matt Collins a behind the scenes look at the high-pressure world of reality cooking shows.
Dan and Steph will also be in the South Burnett for BaconFest.
Matt Collins: In 2013, you guys signed up for My Kitchen Rules. As everyone now knows you went onto win that series, but tell me how that journey started?
Steph: Back in 2009, we wanted to start a family and we had to go down the IVF route to do that. By 2012 we had saved up $16,000 to go through a cycle of IVF. So we did that and we got really healthy and did IVF in February, spent the $16,000 but then our doctor phoned us and said unfortunately it had been unsuccessful. We were at a bit of a crossroads. Then an advert came on the television. It said have you got what it takes to be the next MKR champion. So we went online and started filling out our application. We thought if we win we can use the prize money and do as many IVFs as we need to.
MC: You did win and you did get the prize money and now you have a six-year-old bundle of joy in Emmy.
Steph: Yes, it was meant to be. The second time going through IVF was a completely different experience. It felt more positive. The very first cycle we did, we were successful.
MC: Did you guys think you would win?
Dan: We were the most dedicated team there. We were like athletes for six months. We were literally going home after 16-18 hour days and going home and cooking for three hours practising, reading and visiting restaurants. We took two suitcases down, and once we got there we would empty one suitcase and fill it with cooking equipment so we could travel with our cooking equipment.
MC: That's dedication.
Dan: Well the way I see it, you are one in twelve for $250,000. Those chances don't come along very often.
MC: Parenthood has done little to slow you two down. You own two restaurants and have just finished recording your new television series, 'Travel and Eat with Dan and Steph.'
Dan: The show is quite unique. There is a QR code on the screen, so when we are cooking the recipe shows up on your phone. It has never been done before.
Catch Matt Collins on weekday afternoons from 2pm for the Drive Show on Crow FM 90.7 and listen to the rest of his chat with Dan and Steph on your favourite podcast platform. Stay tuned for more about Dan and Steph's BaconFest journey in Burnett Today's dedicated BaconFest book lift out in our 19 August edition.