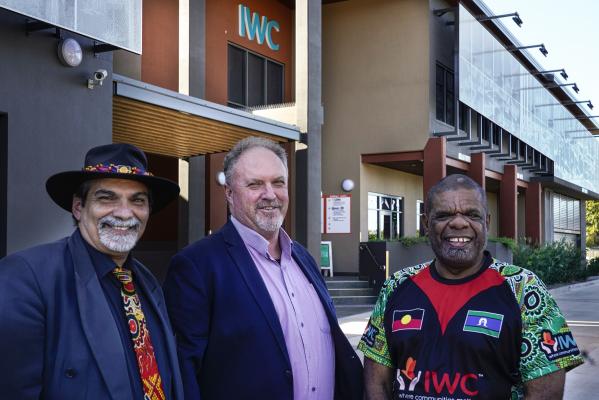 Aboriginal community-controlled organisation IWC has thrown its weight behind Katter's Australian Party's Working with Children (Indigenous Communities) Amendment Bill 2021.
KAP's state leader Robbie Katter said the issue of chronic unemployment and generational welfare dependency was a 'cancer' eroding social and economic stability for Queensland's Indigenous populations.
He said in many instances, explicit barriers to First Australians securing employment were created by the Blue Card system even in instances where individuals posed no threat to children.
"The Blue Card system is a commendable framework that at its core is designed to reduce the risk of dangerous individuals coming into contact with young people," Mr Katter said.
"However there are serious problems with the way the Blue Card framework is used as some sort of a safety blanket by the Government, and indeed its scope extends far beyond its purpose to protect kids.
"Overwhelmingly this over-reach has a detrimental impact on Indigenous communities where work opportunities are scarce, and more often than not are Government roles which demand Blue Cards."
Indigenous Wellbeing Centre (IWC) Ltd CEO Wayne Mulvany said the current legislation is placing a wall of 'blue-aucracy' between many Indigenous people and their ability to get a job.
"It is unreasonable and does not reflect the needs of Indigenous communities to have people working and productive. The amendments being put forward by the KAP are greatly needed," he said.
"Blue Cards are required for jobs in health, disability services, sport and much more – even presenting cultural education.
"This is a massive segment of community jobs being closed to Indigenous people. IWC is seeing the fallout and it is heartbreaking. This is effectively slamming the door on key aspects of Closing the Gap for Indigenous adults," Mr Mulvany said.
The KAP Bill, tabled in Queensland Parliament on 2 September, proposes a new Blue Card framework that would give Traditional Owners and Elders a decisive say around the issuing of a restricted Working With Children clearance for specific individuals they want to be able to work in their own communities.
Based on the Elders' decision, an Indigenous person in their own community could get a Blue Card even if he or she has a misdemeanour or crime in their past that otherwise would preclude them from being approved.
Around 40 per cent of IWC's 145-strong workforce is Indigenous, but Mr Mulvany said it was an uphill struggle with the barriers being caused by the unyielding nature of the Blue Card decision-making.
"At IWC we have seen first-hand the dismissal of applications for Blue Cards by Indigenous people to who may have been involved in a pub scuffle or other activity that led to the police being called decades ago," Mr Mulvany, who has a police service background, said.
"It simply doesn't match the police and courts system, where legislation in all states and territories limits the disclosure of offences once a 'crime-free period' has passed – generally 10 years if the person was convicted as an adult, and three to five years if that person was a youth at the time.
"Of course, sex offences are never spent, and nor should they be. Likewise, for a Blue Card, any offence involving children must always stay on the record. But a pub scuffle or minor conviction when a bloke was 21 shouldn't stay with them when they are in their 30, 40s and 50s and want to work, but can't because they can't get a Blue Card.
"People can reform, and we must respect the Aboriginal and Torres Strait Islander Elders and Traditional Owners and enable them to have their voice on individual applications in their own communities. These Amendments would give them that."
Mr Mulvany criticised what he called "a lack of relevant industry experience and expertise" in the Blue Card decision-making process, saying it was delivered at arm's length by bureaucrats in offices far removed from regional and remote Queensland.
"Drawing on my police background, I can say that profiling of 'persons of interest' is a science and demonstrates that sexual-offence offenders are significantly different to individuals involved in other misdemeanours or crimes such as theft or physical violence," he said.
"More often than not, an Indigenous community member who may have been involved in a criminal activity is being penalised 'for life' by being identified by far-off bureaucrats as ineligible for a Blue Card. The decision-making needs to be 'real', with an understanding of how the individual has changed, how they can contribute to their community and the potential impact of how denying them a Blue Card will impact on them, their partner, their children and their community."
"The Blue Card system as it stands is unfair and closes the gap of opportunity for Indigenous peoples, In fact, based on the level of adverse decisions currently being applied to Indigenous people by the Blue Card system, which we as an Aboriginal organisation see regularly, it is fair to say it borders on discrimination. We support the KAP Bill."