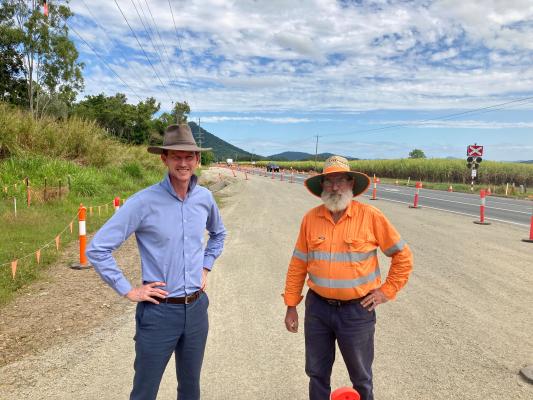 Opinion by Transport and Main Roads Minister Mark Bailey in response to the opinion piece written by Member for Callide Colin Boyce, published in the 19 August edition of Burnett Today.
For someone who claims to speak for Central Queensland, I expected to hear many questions from Colin Boyce when he sat on the parliamentary Transport Committee last month, but he did not say a word.
Colin Boyce pockets an extra $24,000 in taxpayer funds to sit on the parliamentary Transport Committee but during its four hour estimates sitting he didn't ask me as Transport Minister a single question on behalf of Central Queenslanders. He was mute.
In fact, Colin 'Voiceless' Boyce was the only MP on the entire committee not to ask a question during estimates.
Since then, he's been making lame and ridiculous excuses for his $24,000 pa 'sit down and shut up money' from Queensland taxpayers.
The fact is, 'Voiceless Boycey' has been exposed as a fake and a lazy politician who's focused on going to Canberra not actually delivering for Central Queenslanders in parliament as their state MP.
Voiceless Boycey talks big on his Facebook page but he's a church mouse in at Queensland Parliament, and he'd be no different in Canberra.
The Palaszczuk Labor Government is right now delivering an infrastructure boom across Queensland by delivering a record $27.5 billion investment in roads and transport, including $17.5 billion in regional areas, supporting 15,870 jobs in our regions.
Last week I visited Central Queensland and met 160 contractors all keen to win work on the $1 billion Rockhampton Ring Road, the city's biggest ever road project.
This included Jono and Kelvin from a First Nations civil engineering company.
Jono and Kelvin were incredibly thankful for the Palaszczuk Government's work across regional Queensland, which is creating jobs for local workers, including the First Nations workforce.
When I hear positive stories like Jono and Kelvin's, along with the many others I met in regional Queensland last week, it's easy to forget what happened last time the LNP was in power.
The LNP cut $1.6 billion from the roads and transport budget, including a $60 million cut from road safety funding, a $25.6 million cut from the regional safety development program and a $93.2 million cut from council road funding – the heart of regional road funding.
We know road safety is a big issue in regional Queensland and it's one we are doing our bit to fix.
Last month, we locked in $174 million worth of funding for road safety projects across Queensland, which includes $33 million dollars' worth of projects around the Callide electorate which the Palaszczuk Government will be delivering.
In this year's state budget, we committed almost $1.7 billion to road safety, which will be used to prioritise safety upgrades, improve driver education, make school zones safer and develop policies to reduce road crashes and trauma.
We're also taking action right now by rolling out mobile and fixed cameras to catch drivers illegally using their mobile phones and not wearing seatbelts, anywhere, anytime, including in regional areas.
And this week we are introducing tougher penalties for drink drivers, with first-time offenders who are convicted of drink driving and have their licence disqualified required to complete a new education program before they can get their licence back.
We're acting on road safety, but we need road users to do theirs, with the 'Fatal Five' – speeding, drink/drug driving, failure to wear a seatbelt, fatigue, and driver distraction – continuing to be contributing factors in more than half of lives lost.
They are the facts which are never mentioned on Mr Boyce's social media so it's hard to take him seriously when he says one thing on Facebook but sits on his hands and stays silent in the halls of parliament.