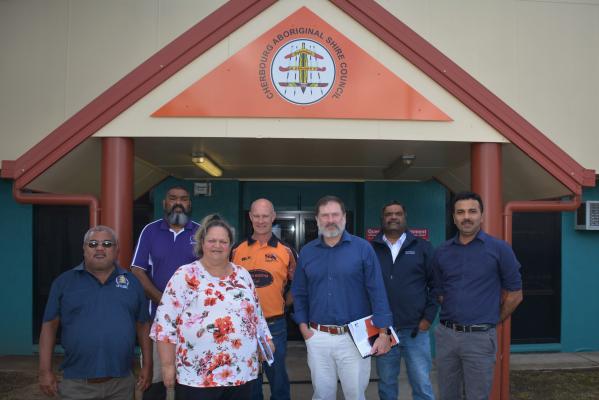 By Neesha Sinnya
After tirelessly campaigning for an urgent call to action to address youth death by suicide, the Cherbourg Council has taken their case to Federal Government ministers.
The meeting on Friday, 1 October, facilitated by Wide Bay Federal MP, Llew O'Brien, saw Cherbourg Council representatives raising their concerns.
Minister for Indigenous Australians Ken Wyatt, Assistant Minister to the Prime Minister for Mental Health and Suicide Prevention David Coleman, and Minister for Regional Health David Gillespie were all in attendance via video link.
Mayor Elvie Sandow opened the meeting by acknowledging the 'dire state' of very high rates of death by suicide amongst the community.
The council representatives expressed their sadness as Cherbourg youth are 'burying loved ones' every week, with grief becoming a devastating part of life for the small Indigenous community.
Mr O'Brien raised the issue of fragmentation and Cherbourg CEO Chatur Zala also raised his concerns around the duplication of mental health services in the community.
"Some funding will go to CRAICCHS, some to child safety, the schools, and council. How can it work if [the funds] are all going to these different areas?" Mr Zala asked.
Council's Corporate Services Manager, Sam Murray said the community issue deserves a community response.
"What's supposed to be happening isn't happening, something's broken and what are we going to do about fixing it?" Mr Murray asked.
The Federal member asked councillors if a mental health task force would be a viable option to help equip the community.
"They can make sure processes are working and when they do get hit with something they know how to react," Mr O'Brien said.
After Mr O'Brien and Cherbourg council staff debriefed, they joined with the Federal ministers to discuss the issues further.
Indigenous Minister Ken Wyatt said he was familiar with the issues from his time spent with First Nations community in the Kimberley region who faced the same harrowing reality.
"We need to identify gaps in delivery on the ground, one life lost is too many," he said.
Mr Gillespie, Minister for Regional Health, said with increased pressure young people face nowadays need to be addressed.
"These [mental health] issues are coupled with toxic social media, drugs, and sexual violence," he said.
"It's a cry for help and we have to have a system to uncover the problem."
Assistant Minister to the Prime Minister for Mental Health and Suicide Prevention David Coleman said he will look at ways to improve the situation on the ground.
"It sounds like the fact is you are seeing high suicide rates despite all of the various programs, the more we can do practically to try and improve the situation the better," Mr Coleman said.
Cherbourg council representatives said increasing the capacity of existing services may be more beneficial than more cash injected into solving the problem.
"Most of our suicides are happening after 5pm, we need services here from local people [after hours]. Money isn't going to solve the problem but working with services here on the ground is," Mr Zala said.
Mr Murray also raised the potential for a youth summit to encourage the most at-risk group to share what's on their mind.
"Young people should be talking about young people's problems and we need to listen. That's the role of an Elder and we all need to play our part," Mr Murray said.
"Our local government is reaching out to Federal saying there's a problem here."
If this story has raised any issues for you or someone you love please contact Lifeline Australia on 13 11 14 or Beyond Blue on 1300 22 4636.