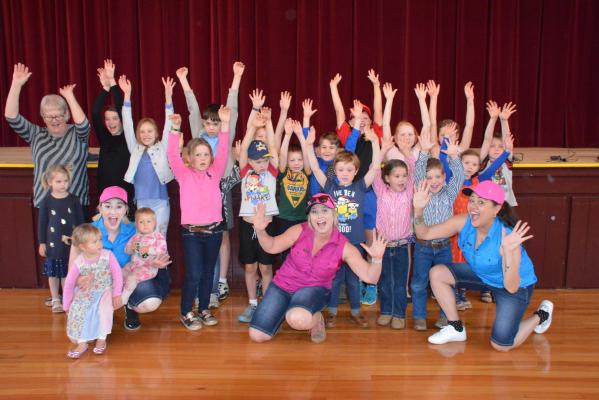 By Neesha Sinnya
Bringing life, laughter, and tunes about life on the bush to rural kids is the aim for North Burnett performer, Cilla Pershouse.
For the local performer coming home on her regional tour has been a real treat.
The Blue Gum Farm TV troupe toured rural towns including Mount Perry, Coalstoun Lakes, Gin Gin, Bioela, and Taroom.
Children, parents, and grandparents jived along to familiar favourites like the Jillaroo Jive and Welcome to Blue Gum Farm in their 'country best'.
The program, which was taking the live stage across regional Queensland last month, is filmed on Cilla's family farm in Ban Ban Springs.
"It's a program for children about life in the bush, celebrating life on the land and educating children about different rural industries," she said.
Themes explored through song and dance, include milking cows, collecting fresh eggs, harvesting vegetables, and mustering cattle.
"It's a rocking concert for everyone to enjoy, it's rewarding because people are so appreciative out here – they don't have this every day," Cilla said.
The rocking Blue Gum Farm live show wowed the South Burnett audience at a special performance at the Kingaroy Town Hall on Thursday, 30 September.
Eager Kingaroy theatre kids got involved in an acting and dance workshop before the show began.
"It's a theatre workshop to understand what we do and dip a toe into the theatre world," Cilla said.
The participants learnt from the Blue Gum cast all about theatrics before trying out dance moves to their favourite songs before the concert began.
With the help of Arts Queensland and the regional community groups and Councils, the performing troupe is able to bring the show free of charge to communities.
"The show is a winner, everyone loves it," Cilla said.
You can find more information about the educational program at bluegumfarmtv.com.au.