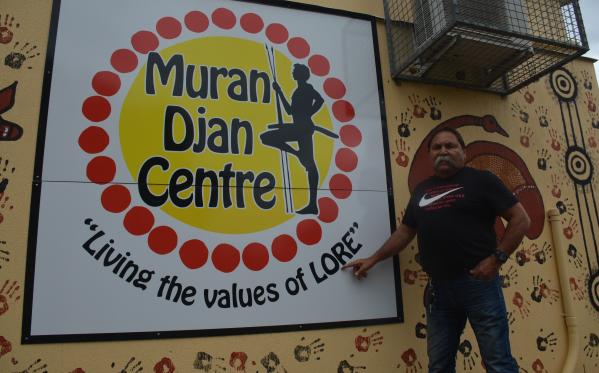 by Jessica McGrath
Uncle Bevan Roy Costello was tremendously loved and respected by his whole community and beyond.
The proud Wakka Wakka Elder fought hard for justice, played in local rock bands and showed love and kindness to everyone he met.
Hundreds gathered at St Joseph's Catholic Church, both inside and outside on the lawn, to pay their respects to Uncle Bevan on Friday, 8 October -on what would've been his 65th birthday.
Many more could not travel to the funeral in Murgon and watched a live-stream of the service.
A song, recently written as a touching tribute to Bevan's memory, was played during the service by one of his former band members, Dennis 'Mop' Conlon of Mop and the Drop Outs Fame.
"Goodbye our brother… goodbye old Cherbourg boy, we're going to miss you until we meet again," the song lyrics went.
Students from Murgon State School even lined up along the roadside near the church to farewell him.
Warren Collins Snr read out the eulogy.
"Bevan brought the world around him to life with his loud voice, his laughter, and comical behaviour, he would light up every room and gain life-long friendships with those whom he met," he said.
Bevan grew up in Cherbourg and was the youngest son of Harry Snr and Alice Costello.
He completed schooling at Cherbourg State School and Murgon State High School and graduated in 1974.
Keen to start work, he did peanut chipping and onion picking in Kingaroy and worked at Murgon meatworks before gaining an apprenticeship at Barambah Pottery. He became a skilled potter.
He met his wife, Dorothy Simpson, in 1978. Together they had eight children: Michael, Ricky, Ian, Bevan Jnr, Alicia, Christopher, Leighton and Joshua.
Bevan was also an adored brother, father-in-law, grandfather and had 19 great grandchildren.
He was employed by Education Queensland for more than 30 years, and first taught at Coorparoo State High School from 1988 to 1991.
He then decided to return back to country with his family, and took on a full-time position with Murgon State High School.
Brian King, former Murgon SHS Principal and Bevan's mentor, and Greg Smith, a retired Murgon SHS teacher, both shared at the funeral.
Bevan worked as a deputy principal and principal at Cherbourg State School.
He was also the principal at Arethusa College -an alternative rodeo, off-campus program for at-risk indigenous youth.
Over the years he taught manual arts, mathematics, Indigenous studies, English, was the deputy principal, principal, head of curriculum, senior teacher and head of special education.
Bevan was sometimes referred to as 'the worst driver on Bond St' and enjoyed taking his 1970s van out for a drive.
Rugby League, Gloria Jeans coffee, and music were some of Bevan's other passions.
He started up a local rock band called The Magpies, recorded a Christian album and played bass guitar for local band Muddy Flats.
As for league, his favourite teams were the Brisbane Broncos and Queensland State of Origin side -both jerseys were worn by his loved ones at the funeral.
Bevan's love for football started early as he played with the Barambah Magpies before co-founding the Cherbourg Hornets.
A football-career highlight was the time he was selected to play in the under-18s Wide Bay side.
Bevan represented both the under-18s and A-grade side for Wide Bay on the same day and is believed to be the only player to do so.
He was also the only try-scorer in the Queensland representative side in 1986 which played the curtain raiser before the State of Origin.
Bevan went on to help out with coaching Hornets teams and the open side at Murgon State High School.
Bevan was known for his integrity and honesty and passion for community and justice.
He worked with the Cherbourg Men's Group and led RU OK Day and 'family and domestic violence no bullying' marches.
The Wakka Wakka Elder served two terms on the Cherbourg Aboriginal Shire Council and was the founding member for the Cherbourg Ration Shed, and also the Muran Djan Men's Centre.
He was a member of the Barambah Local Justice Group and served a combined total of 22 years as a JP qualified and JP Magistrate at the Cherbourg Murri Court.
Bevan was also an active member of the Queensland Sentencing Advisory Council for 30 years.
Cherbourg Aboriginal Shire Mayor Elvie Sandow shared at the funeral, alongside council CEO Chatur Zala who read out a letter from Queensland Premier Annastacia Palaszczuk.
Ms Palaszczuk said Uncle Bevan had been a champion for positive change for Cherbourg and education, as well as a positive role model.
Cherbourg Pastor Max Colon said Bevan's legacy was his great passion and love for his community.
"We need men like this [like Bevan] that have a passion to be an advocate, to be a voice, to be present, to be visible in the life of the community that you serve," he said.
Bevan Costello was laid to rest by his family at the Cherbourg Cemetery.