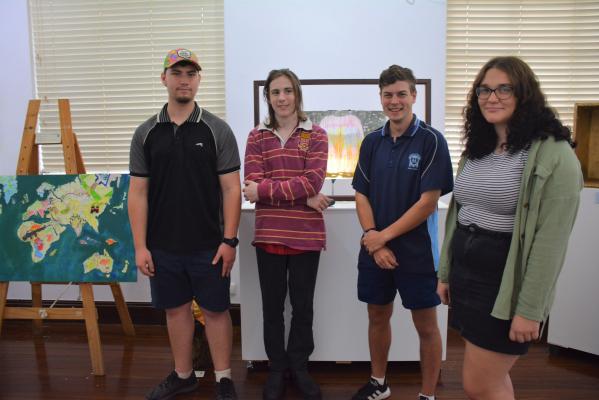 by Jessica McGrath
Kingaroy State High School visual art students are having an opportunity of a lifetime this month.
The junior and senior visual arts students have their work displayed at the Kingaroy Regional Art Gallery as part of its October exhibition.
The students officially opened the 'Kingaroy State High School Annual Exhibition' on Friday, 8 October, which included launching the people's choice vote.
KSHS Visual Arts teacher and subject-area coordinator Tonita Penny said the students got a taste of a career in the arts.
"I don't think they realise how good it'll feel to have their work displayed," she said.
"Not many areas of learning allow the students to express themselves like in art."
The school's 20th annual exhibition was due to be held in 2020, but got postponed until this year.
The students not only displayed their own paintings, prints and sculptures but worked together to curate the exhibition as well, with Kingaroy Regional Art Gallery president Fran Van Vegchel hosting a curating workshop with the budding artists.
The senior students tackled 'mental health and personal struggles' in the main gallery, with some powerful pieces tackling difficult topics.
"It's quite confronting work – it's all student-directed," Ms Penny said.
"It's a tricky message to portray."
In the back gallery, the artworks change to an environmental theme, while others portray dreams and families.
Ms Penny hopes the junior students will take the time to look at the artworks created by the senior students and be inspired to continue studying visual arts.
Making visual arts practical has been an exciting journey for Kingaroy State High School; KSHS Acting HOD of Visual Arts, Carissa Sempf, said the 2021 cohort of Year 11 students were the first to try out the 'Visual Arts in Practice' subject.
"They love it," she said.
"All of the kids are very excited to be part of the subject, there's lots of group work."
The new, applied subject is not as academic-based as visual arts, but uses the same skills; it involves a lot of community-based projects, which are on display in the exhibition, allowing the artworks and assessment to have a purpose beyond a student's grade.
This assessment also gives the class a taste of what it is like to do an artwork for a client.
The students also worked on a mural at the South Burnett Child Care Centre after being given the brief to capture 'What is Kingaroy' in their art, with the concept designs for the mural also hanging in the art gallery this month.
KSHS Students also tried their hands at print-making, designing bags for different community groups.
The Year 11 students will have the opportunity to continue the subject in their final year of school next year, with many younger students already expressing an interest in taking the subject in Year 11 in 2022.
The KSHS Annual Exhibition will be showcased at the gallery until Thursday, 28 October.