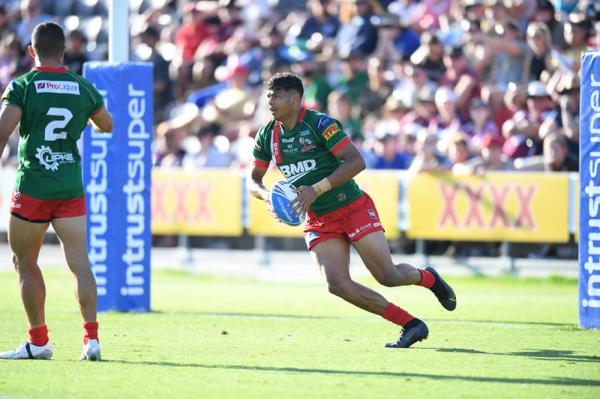 By Qrl's Colleen Edwards and Neesha Sinnya
The South Burnett were cheering on Cherbourg rugby league superstar, Selwyn Cobbo, as he played with the Wynnum Manly Seagulls in the In Trust Super Cup Grand Final decider against the Norths Devils over the weekend.
The Devils took out the tough and hard-fought match over the Seagulls to be named 2021 Intrust Super Cup champions on Sunday, 10 October.
Only a converted try separated the sides at the end of the match with the Devils finishing on 16 points while the Seagulls were close behind with 10 points.
Cobbo showed his electric spirit with an epic try that saw the 19-year-old player dive triumphantly over the line at the 38-minute mark.
He made sure to run to the section of the crowd with his family and friends to celebrate scoring a grand final try.
At halftime, the Devils held a slender 10-6 lead in what had been a cracking decider up to that point.
Seagulls coach Adam Brideson, who endured similar disappointment following the 2019 decider, was proud of his players and their season.
"Super proud of the effort, it was a game that could have gone either way.
"Norths were fantastic mate, and ultimately came away with the result," Brideson said.