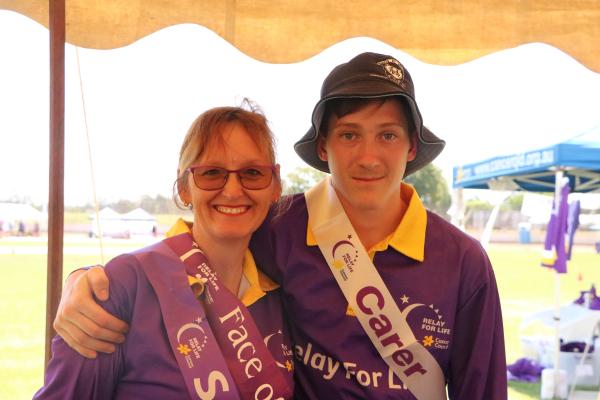 by Julian Lehnert
Kingaroy played host to an emotional, inspiring and memorable event over the weekend, as scores of cancer survivors, their carers and supporters flocked to the town's Showgrounds on Saturday 9 October to do their part in aiding cancer research as part of Cancer Council Queensland's Relay For Life.
The inspirational event serves as an annual initiative by Cancer Council to raise crucial funds to aid cancer patients and survivors and further the cause of cancer research, urging members of local communities to band together, walk, roll or run as a team and pledge their support to ensuring a cancer-free future.
Saturday's event saw 22 teams attend, each with their own costumes, themes, hand-crafted stalls, and fundraising activities, including eight groups from Kingaroy's State High School as well as several local businesses, with over two dozen sponsors providing funding for the day.
After having to cancel 2020's Relay due to Covid-19 restrictions, Cancer Council Queensland spokesperson Tara Evans, who gave a speech before the first lap of the day, said she was overjoyed to see the charitable cause back on its feet again.
"One person in Queensland is diagnosed with cancer every twenty minutes," she said.
"Relay For Life aims to facilitate Cancer Council's efforts in supporting those impacted by cancer by conducting prevention programs to help Queenslanders reduce their risk and to ensure funding for research projects to improve cancer treatment and survival.
"All this has only been possible thanks to the generosity of the community and our fundraisers.
"Our goal for the South Burnett this year was to raise $50,000, and as of this morning, we were sitting at $68,000 already. Thank you to all our local supporters and sponsors that contributed to this event. We are so fortunate to have such local organisations backing us," she added.
The first lap saw all of the cancer survivors and their carers in attendance walk as one, backed by the bagpipe marching tune of local musician Wayne Darr.
This year's Face of Relay, Sheva Butler, cut the ribbon to officially begin the festivities; afterward, the mother-of-five shared her own story of surviving cancer.
"I had cancer in 2017," she said.
"Both of my daughters were doing Relay For Life to honour me that year. They made me come along, but I could only just about get through the doorway.
"Everything hurt, but I promised them that, the following year, I would be doing Relay For Life.
"At that point, the Ride For Relay team came along, and I said 'I'll do that, too' – unaware it was a 400 kilometre bike ride. Training for that actually got me fitter than I was before I ever did Relay. So, that's how I'm here this year," she added.
Attendees were treated to live music from a variety of local bands and groups, food and drink as well as free health checks provided by Cancer Council workers.
"Doing Relay really does make you fitter," Ms Butler explained.
"Declaring that I was going to do Relay was a huge step for me and a massive motivator," she said.
Relay For Life's patron, Carl Rackemann, said that he and the rest of the South Burnett Relay team are looking forward to regular annual events once again after the 2020 break.
"Cancer hasn't been in lockdown, but we're back in business now," he said.