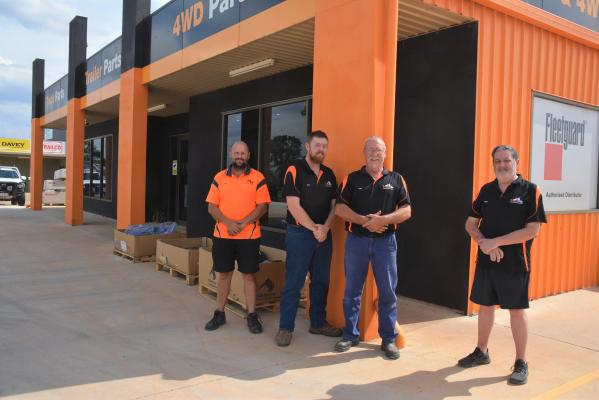 by Jessica McGrath
Doing business in the bush is what Tranzmile Truck and Trailer Parts does best.
Owner Cameron Black said Kingaroy was a great bush town to have a business in.
"We're strong believers in supporting regional Queenslanders and being able to help businesses and people in the Burnett," he said.
This is why they were more than keen to support the Burnett Today 'Our Town' campaign.
"We've always been very strong in supporting the local community," Mr Black said.
"Having grown up not far from here, and being fifth generation farmers, as a family we understand what it means to live and work in the bush."
The rural family business has been operating in Kingaroy for seven years, located in the south of town on Barron Park Drive.
Tranzmile has the largest truck and trailer parts showroom outside of Brisbane, which offers a huge range and caters for transport operators all the way through to the general public.
"There is often a misconception that the public can not buy from us and that we are a trade only outlet. This is not the case at all" Mr Black said.
"Whilst we sell at trade prices for sure, we are 100 per cent open to the public and in fact we carry a huge range of parts to suite 4WD's and even passenger vehicles.
"We have the biggest range in town on common brands such as RYCO Filters, Supercharge Batteries, Narva and Fleetguard,"
They have found a sweet spot of good rural country service, coupled with competitive prices.
"If we don't look after local businesses there won't be any left, small communities have to look after one another," Mr Black said.
"Rural towns needed to be able to buy at competitive rates."
Tranzmile also runs the largest Truck and Trailer Parts Showroom in all of Brisbane at the Wacol superstore, ensuring Kingaroy customers get the same pricing their Brisbane customers do.
"Enabling local business to buy at the right price is something that is very important to us. It means that they can be competitive and their business can grow," Mr Black said.
As a business, Tranzmile has grown over the years with customers and deliveries not only in the Burnett but also through to Dalby, Jandowae and north to Gayndah.
"Growing the business is something we're really proud of," Mr Black said.
"So far, it's a far bigger business than when we first started and we hope to continue growing it through great customer service and lowest prices."
There are now also Tranzmile branches in Brisbane, Sydney, Gold Coast and Townsville in addition to Kingaroy.
"It's a Burnett business growing and expanding nationally," he said.